New construction: World Cup stadium in Nizhny Novgorod begins to take shape
source: StadiumDB.com; author: michał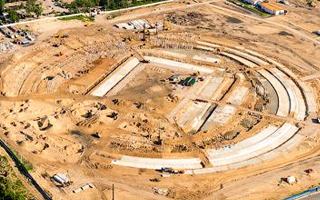 So far it's just a large crater. A deep pit if you will. Already significantly filled with concrete, which you can see thanks to fantastic aerial photos from Slava Stepanov!
Nizhny Novgorod is another of the 2018 World Cup builds you may now watch grow at StadiumDB. Nearly 500 workers are now working daily to deliver the 45,000-seater timely, inserting roughly 50 concrete piles every day, already nearing the 9,693 total number. Piling is necessary as the stadium will be built just by the Volga Riverside.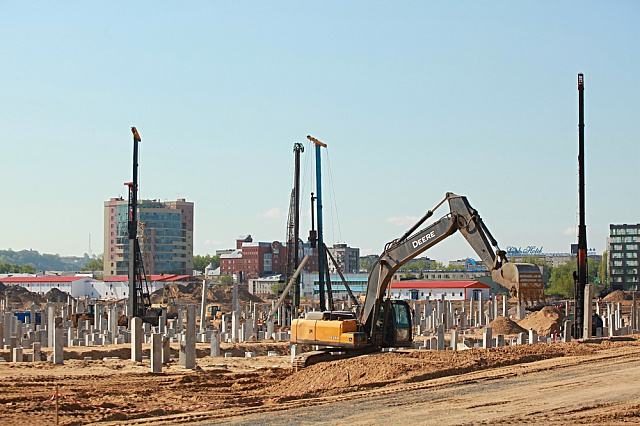 © Stroytransgaz
Nearly any number concerning this project is huge, but the foundation phase (now nearing 70% according to general contractor) is particularly impressive. Of all the 140,000 cubic meters of concrete over 80,000 will be poured into the foundation plate. Which, by the way, should be ready for December.
The progress so far can be seen in our first construction gallery, courtesy of Slava Stepanov. By the way, from the recent aerial gallery by Slava you can be sure Nizhny Novgorod will be a stunning World Cup destination for fans going there!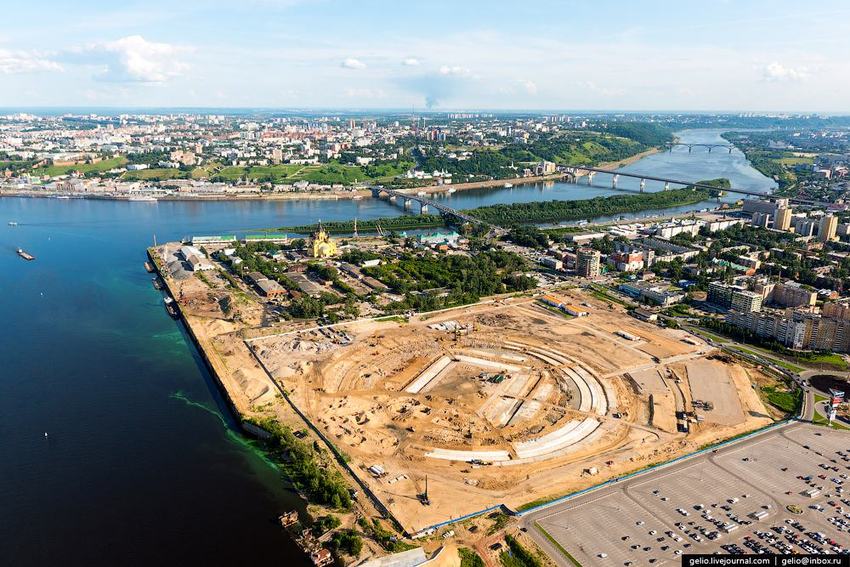 © Gelio.Livejournal.com
From that moment on we should be observing fast growth throughout the construction site as the project is due in 30 months (ending half a year before the 2018 World Cup). The entire project was set at nearly 17 billion in late 2014, while Stroytransgaz was selected to deliver the stadium.
What's getting built here?
Final concept of the Nizhny Novgorod retains the location set in 2012, in western district of Strelka, picturesquely set along Volga, but in need of revitalization before the 2018 World Cup.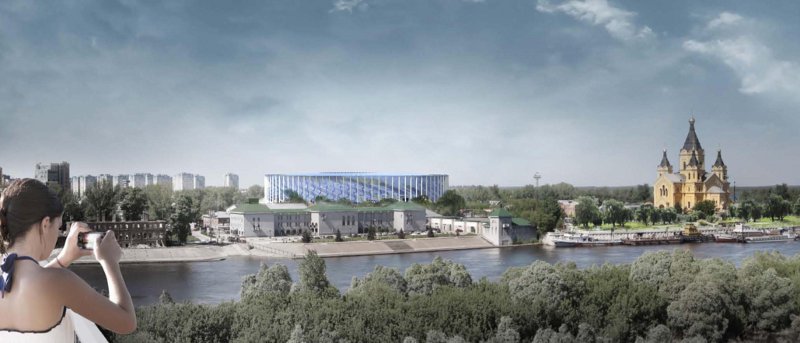 Visually, however, the plan saw a lot of changes since the adoption of this location in 2012. Concrete outer concrete colonnade will be contrasted with visually lightweight whirlpool-shaped glass wrap. Similarly to the wrap, access routes to the stadium are also to be spirally encircling the entire venue.
Seating layout has been divided into two tiers – lower one forming a sunken bowl of modest size and upper, much larger and more dynamic with its 'la ola' motive. The upper tier is to be cut along the pitch, leaving room for two levels of skyboxes. Under the stands extensive infrastructure for commercial use will be created, allowing the building to live 320 days per year. Or so the local organisers hope.