Gabon: One more "Chinese" AFCON coming up
source: StadiumDB.com; author: michał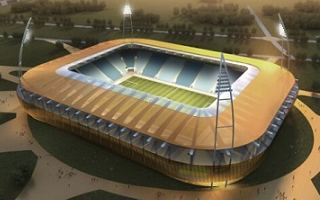 It may be an African tournament, but it's almost entirely held in Chinese stadiums. Over the past weekend Gabon signed deals for two more venues from China.
In 2012 Gabon hosted their first ever African Cup of Nations (AFCON), together with Equatorial Guinea. Not even two years later the country was selected as hosts again, this time without a co-host. This unexpected choice was made as Libya had to give away their tournament.
Thanks to Gabon's first tournament from 2012, the country already has two major stadiums ready. First one, built by the Chinese government is the 40,000-seater in northern Libreville suburb of Angonje. Second one, deep in south-eastern woodland city of Franceville, holds 25,000 and is the only one not to be financed by China. Serbian contractors carried out their works directly for the Gabonese government.
Another massive project was carried out at the heart of Libreville, where former Stade Omar Bongo was redeveloped into another 40,000-seater, equaling the size of new Angonje stadium.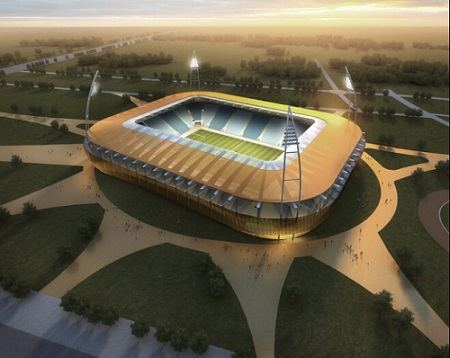 And finally over the past weekend Gabon signed two more contracts for new stadia. This time cities of Port Gentil and Oyem will each receive a new 20,000-seat stadium, again courtesy of the Chinese government.
Of course one of the conditions for Chinese involvement is that the stadiums are built by Chinese companies. China State Construction Enginnering (CSCEC) grabbed the contract for Port Gentil (image left), while Shanghaï Construction Group (SCG) received the second deal.
As there is extremely little time to carry out works, both projects were downscaled from their initial capacities of up to 40,000. Now each is expected to be delivered and opened in 18 months.