Ukraine: Dnipro punished severely after Europa League
source: UEFA.com / Velikiy futbol; author: michał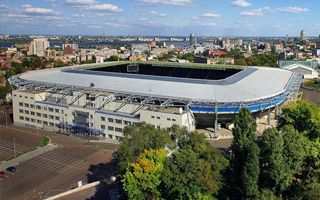 Not only did UEFA impose harsh penalties for spectator and player behavior. Also, the team has to give up €9 million earned in Europa League to compensate general contractor of Dnipro-Arena.
Reaching Europa League final is a success no-one will take away from Dnipro. But the Ukrainian team also paid a big price, aside from losing against Sevilla on Wednesday.
Today UEFA announced the club has to pay €70,000 in fines. Majority (€50,000) is for the racist behaviour of their supporters. €20,000 for the field invasion, the setting off and throwing of fireworks and objects, the crowd disturbances, the blocked stairways and the improper conduct of the team.
Also, adding to fines, the team has to play their next European game behind closed doors. One more "ghost game" is deferred for a probationary period of two years.
These sanctions may be painful, but not even close to what the TV show Velikiy futbol reported. Apparently Swiss court has ruled that UEFA will not pay Dnipro the €9 million ($10m) they earned in their exciting Europa League adventure. Instead, the funds are to be transferred to Hochtief. The German contractor delivered Dnipro Arena in 2008 and still hasn't received full payment.