Tokyo: Olympic Stadium debate heated again
source: StadiumDB.com; author: michał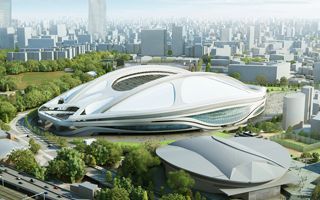 Price tag speculations, public argument about funding sources, now even unconfirmed revelations about supposed design change. All that in just days as Tokyo's Olympic Stadium raises questions.
Formally construction is yet to begin, but Tokyo's National Olympic Stadium has been subject to controversies since winning design announcement in 2012. Zaha Hadid's vision was widely criticized for being too imposing towards its direct environment.
Then it quickly appeared that initial budget estimations were extremely optimistic as ¥130 billion soon turned into 300 billion ($2.4bn / €2.1bn). To ease on both issues downscaling of the stadium was ordered, resulting in 2014 with a much smaller (still 80,000-capacity) version priced at ¥162.5 billion. Whether the downscaling went successfully, judge for yourselves:
Extremely expensive again?
With 162.5bn price tag it would still be among the most expensive stadiums ever built ($1.3bn / €1.15bn). But last week Yomiuri Shimbun suggested the price went up again as contractors evaluated the project to stand again at 300 billion or more.
Reportedly it wasn't until further cost-cutting attempts that the design stabilized at 250 billion. If that figure proves true, it will be the only stadium ever to exceed $2 billion (€1.8bn). As part of the cost-optimization retractable stands were replaced with regular ones, 15,000 temporary seats were included instead of all 80,000 being fixed, while construction materials were replaced with cheaper equivalents where possible.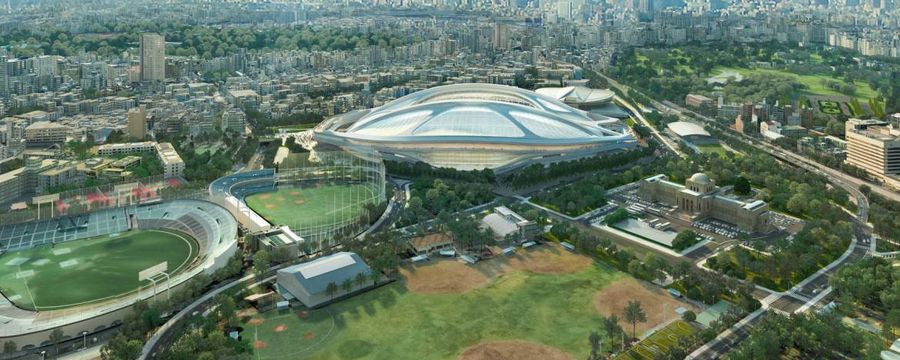 Who will pay?
Not only the cost, but also funding sources became a hot issue in recent weeks. Education and sports minister Hakubun Shimomura announced he expects Tokyo to pay ¥50 billion towards the stadium. Governor Yoichi Masuzoe expressed disbelief in such expectations and stated he would not participate in this governmental project.
Why did minister Shimomura expect this kind of contribution from Tokyo government? He quoted former Tokyo governor as the one to have promised this kind of aid. However, neither the current, nor previous governors admit to such promises. While they agree the city may cover cost of some preparations, none of their funds should go towards the stadium itself.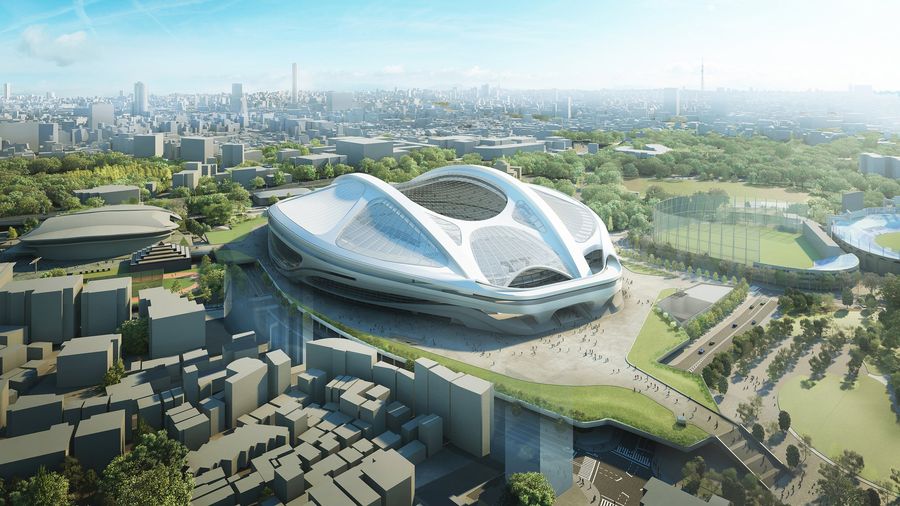 Designer to be changed?
A weekend report in the Hochi Shimbun said Olympic chiefs were considering canceling the contract with Zaha Hadid Architects, which was chosen to design the showpiece stadium in a restricted-entry competition in 2012, unless the design could be modified to meet budget and time restrictions.
Hadid's company reacted on Monday, denying any such move is possible. "Our client, the Japan Sport Council, confirms that, together with the Japanese government, they intend to retain Zaha Hadid Architects on the New National Stadium in Tokyo until completion in 2019," the company said in its statement.
Will they make it?
2020 seems a long time from now, but Tokyo is already under huge pressure of time. Initially expected to take 42 months, the stadium may require even 50 months to build. Even with time-saving cuts, like postponement of retractable roof installation until after the 2020 Olympics, the stadium will be extremely hard to deliver in time. Especially that it's expected to host crucial Rugby World Cup games in 2019.
Minister Shimomura promised on Tuesday that the centrepiece of the 2020 Summer Olympic Games will be completed on time and blamed a "lack of clear responsibility" for the structure's raft of woes.