Rome: "Give me approval, we'll find money tomorrow"
source: StadiumDB.com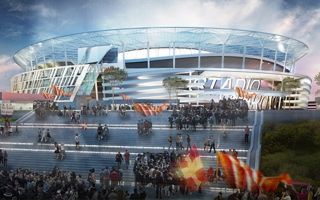 AS Roma hosted a true celebration yesterday as the club presented their updated Tor di Valle stadium scheme. The ceremony was only a secondary event to the submission of full dossier to the Rome Commune.
One might say they really flexed their muscles yesterday. AS Roma presented once again what is expected to be Italy's next best stadium and part of a major European revitalization project. Fresh renderings, mock-up of the 105-hectare site and speeches from key executives were all just the background for most important event on Monday: filing of the official dossier to Comuna di Roma.
Now city officials have to approve the €1.5 billion ($1.7bn) project, then forward it to the Lazio Region authorities before ground can be broken on the Tor di Valle site. That's why a realistic (perhaps optimistic?) expectation by AS Roma puts groundbreaking at very late 2015.

Should that estimate prove true, supporters may get their first matchday experience early into the 2017/18 season. The stadium wouldn't be entirely ready at that point, but operable. Finishing the building and surrounding developments might take up to a year more.
Later and more expensive than planned
This project's road to fruition is a long one for a simple reason: it's among the largest such developments throughout the continent. The stadium isn't even a third of all amenities planed, as witnessed by the price tag. €400 million ($450m) is expected to be spent on the arena alone, while nearby office towers (three planned, tallest one at 200 meters) will consume most of the budget.
The updated price estimation means the stadium will be a third more expensive than initially planned. First at some €300 million, then €340 million, now the building is becoming one of the most expensive 50,000-seaters in Europe.
That said, €50 million has been spent to this date on project documentation to meet various existing requirements. Emphasizing determination of the investors, AS Roma owner James Pallotta assured yesterday that the money needed is there. "If you give me approval tomorrow we'll find the money tomorrow," Pallotta said.
Worth noting, the stadium is already far behind the initially-expected schedule. Ongoing for three years, it's still in pre-construction phase, while early expectations had put the delivery date at just a year from now. According to current plans, this is when ground works should be finalized.
What changed in the design
Updated design thankfully retained key visual aspects of the initial concept. Stone frame mimicking the Colosseum still wraps the stadium from outside, even if slightly more perforated than at the start. Somewhat less dynamic and lightweight, the overall bowl manages to keep proportions intact and seems to be a very successful final rendition of early ideas.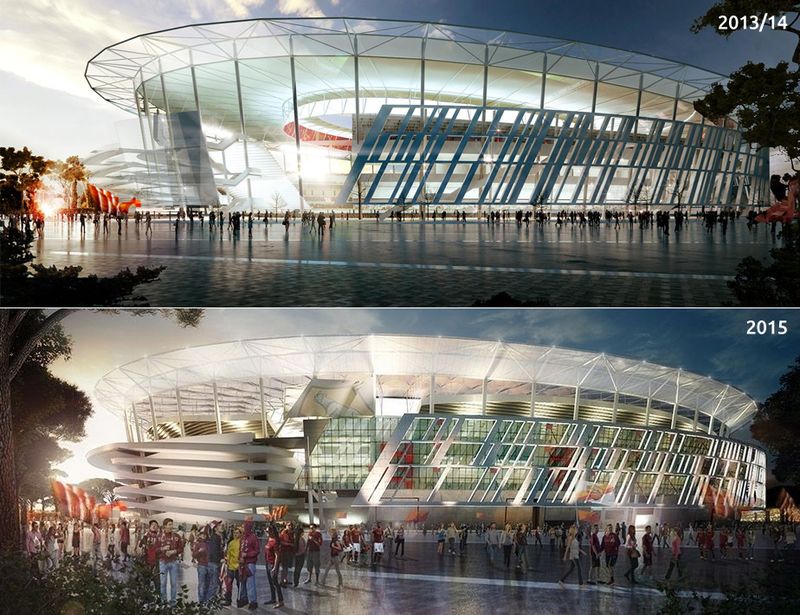 The stands are still divided into the main seating bowl and separate Curva Sud stand for fanatics. However they detailed layout has changed. All upper sections seem to utilize the "la ola" (wave) effect optimizing sightlines and providing a more dramatic appearance. Capacity remains unchanged at 52,500, still with option to expand to 60,000 if demand is sufficient.
Most interesting element is the Curva Sud, which instead of three tiers will now have only two, providing a massive upper terrace. This should further enhance matchday atmosphere as 15,000 people will be sat closer to one-another. Curva Sud will also serve as an independent amphitheatre for smaller events.