Brussels: "Habemus papam" - agreement reached on national stadium
source: Sporza.be / Voetbalniewus.be / Nieuwsblad.be; author: michał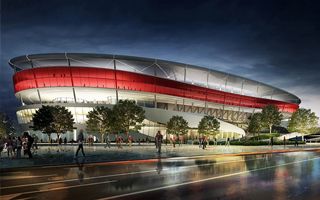 Whether appropriately or not, Brussels executive for sports Alain Curtois compared negotiations over the new national stadium to selecting the new pope. Most importantly: it all seems settled now!
It's a good day in Brussels. Or at least good if you are Anderlecht and Ghelamco. The two private partners managed to reach a crucial agreement with authorities of the Belgian capital. In short, the deal gives both private parties financial support from the city on the new national stadium.
Details of the agreement will be announced tomorrow during a press conference. However, Voetbalnieuws.be suggests the city agreed to pay €4 million annually to help in stadium operations and sustainability. Such is the amount paid currently towards yearly operations of the Koning Boudewijn Stadion, which will be demolished after construction of the planned new 60,000-seater.
Whether the financial details are confirmed or not, reaching this agreement means the project may finally go ahead. Joint investment by the Belgian football association, Ghelamco and 33-time champions Anderlecht is expected to cost some €314 million. The stadium was also selected to host Euro 2020, which is why the city had to reach a deal with investors.