New stadiums: Four from Slovakia
source: StadiumDB.com; author: michał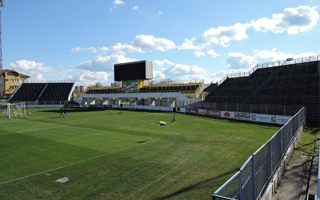 From the top league to smaller, local stadiums. Today we give you a variety of venues from Slovakia, courtesy of Gerhard Rudolf and Jörg Pochert.
© Jörg Pochert
Until early 1980s the municipal stadium in Dunajska Streda only had one modest concreto stand in the west (or, actually, in the north-west due to the stadiums angle) and several covered rows on the opposite side.
However, as the 1985 Spartakiad was celebrated nationwide, new main grandstand was built, very modern at that time, with support-free cantilever roof. The east stand came next in 1989, while the stadium was completed with end zones. Those proved very original in terms of shape, which was caused by site limitations.
At peak the stadium was able to hold well over 16,000 people. Today, after partial conversion to individual seats (west and east) and due to safety reasons capacity is set at just over 6,000.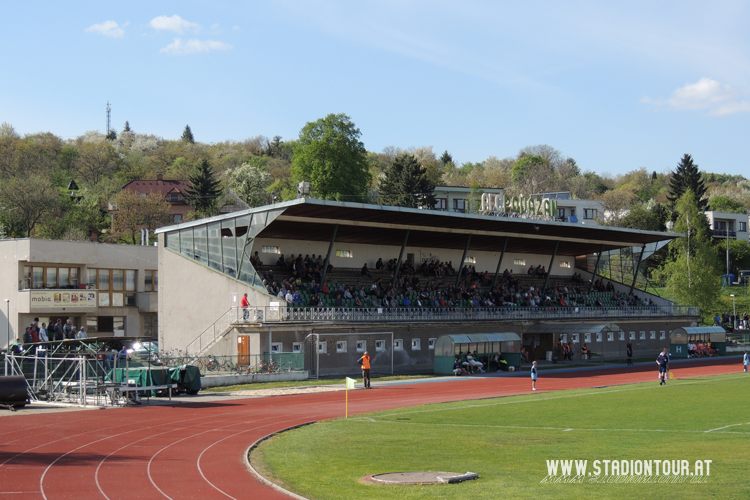 © StadionTour.at
The multi-use stadium with 7-lane running track is located in the western outskirts of Nové Mesto nad Váhom and owes its significant capacity to vast green terracing encircling the field of play. There's only one concrete grandstand with covered seat, which also accommodates all infrastructure for players, as well as hosting a bar.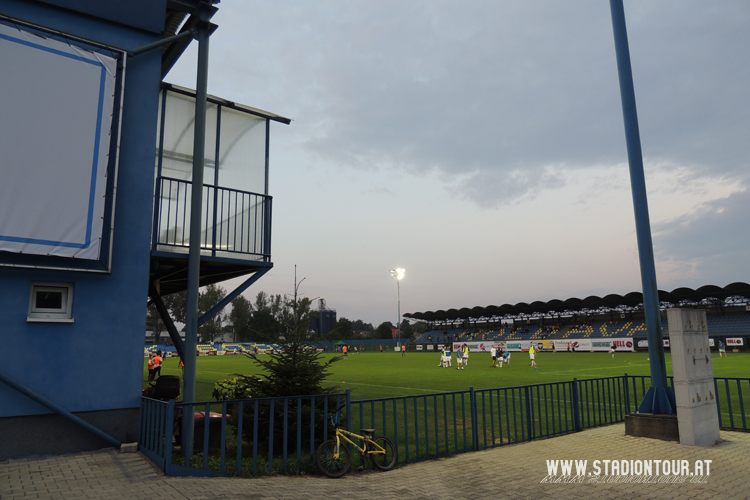 © StadionTour.at
New stadium in Moldava nad Bodvou was built utilizing the old athletic one. It went up gradually, starting in 2008. East and north stands were built on steel prefabs and, interestingly, both were fitted between the old landfill terracing and the field. Meanwhile the main western grandstand partly consists of the old building that used to stand there, though expanded and covered by new roof.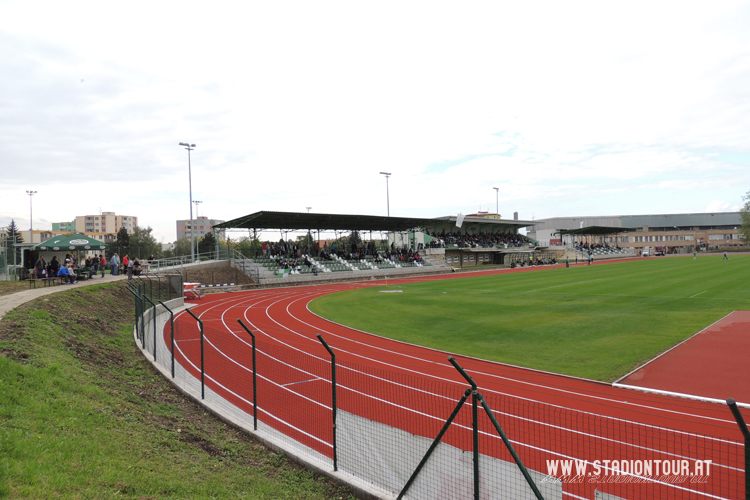 © StadionTour.at
The municipal stadium in Skalica is located south of the town centre and roughly 3km (2 miles) south of the Slovak-Czech border. Until 2014 it had only one minor grandstand in the west, but was then expanded. Two additional covered sections were added on both sides of the main grandstand and small open terrace was created in the east.
Also, the stadium was equipped with 6-lane running track to accommodate local athletics. It stands among other sporting venues like training field, hockey arena and tennis courts.
Please note the capacity given is based on estimations only as the club and township didn't provide other data. There are under 1,000 seats and standing room along the entire field.