Russia: The fight to keep stadium budget from inflating
source: MoscowTimes.com / R-Sport.ru; author: michał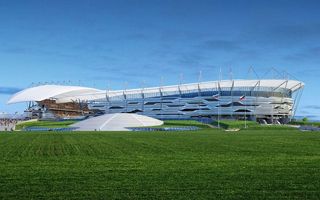 Russian prime minister ordered to replace imported components with domestic products where possible. This should help with keeping budgets from overruns.
Dmitry Medvedev, the prime minister of Russia, issued a statement on Monday, urging investors and contractors of several 2018 World Cup stadiums to replace planned imports with domestic products. This comes as a reaction to ruble devaluation, which makes any foreign products more expensive.
The order is primarily targeted at five stadiums, which are in early construction phases and are primarily financed (by no less than RUB 10 billion) from federal budget. These are located in Nizhny Novgorod, Rostov-on-Don, Samara, Saransk and Volgograd. Each of them is expected to cost close to or in excess of RUB 15 billion when finished.
This latest attempt at keeping cost increase to a minimum also allows design documentation to be changed in parts, providing that it would not interfere with overall standard of the building.
There are no clear guidelines as to which elements might require changing at this point, but Mordovian Minister Alexei Merkushkin, who is responsible for construction of Saransk's stadium, said foreign lighting fixtures, cables and electronics could all be replaced with Russian-made equivalents, news agency R-Sport reported Monday.