New stadiums: Toronto and Montreal updated
source: StadiumDB.com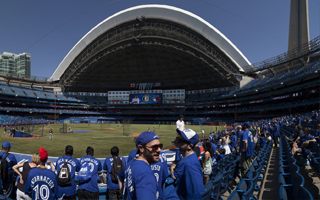 We've had one stadium from each city, now we're making up for the lost time. So here are Rogers Centre, Percival Molson Stadium and Lamport Stadium!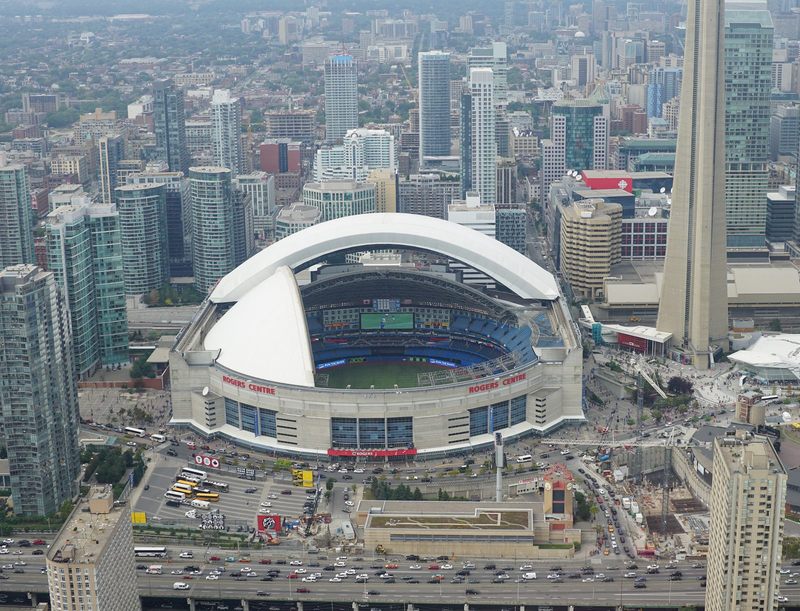 © Jamaal
The need for a new major stadium for Toronto proved pressuring in early 1980s. While locals were getting wet, other cities in the US and Canada were getting domed stadia that were on the rise. Special committee analyzing the feasibility of such stadium was created in 1983, while in 1985 already the best design was selected.
Its strength was using conventional technologies to achieve the first such mobile roof. One segment was fixed and three others retractable. The two middle panels slide laterally to stack over the north semi-circular panel, and then the south semi-circular panel rotates around the stadium and nests inside the stack. Interestingly, this choice proved very effective as today the stadium has the world's oldest operating mobile roof.
It was first used in 1989, when construction ended with a light, 2-month long delay. But it wasn't the duration of works that raised controversy. Its final price tag proved much more problematic, growing from initial estimates of $150 million to roughly $570 million. A significant increase was caused by late inclusion of a 348-room hotel which has 70 rooms overviewing the field.
The cost was covered only partly by public authorities of federal, provincial and local level. The remainder was paid for by 28 companies (including the baseball team Blue Jays), each contributing $5 million for a 10-year skybox lease and long-term marketing rights. The rates were later questioned as very low, especially with the building running at a massive loss in its early years, well over $20 million.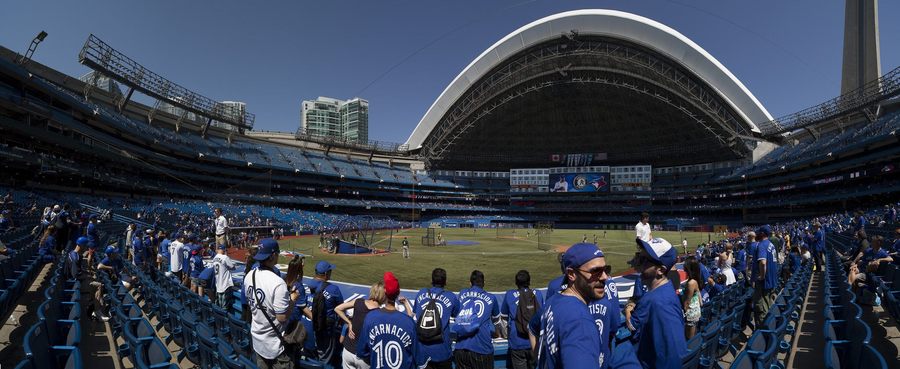 © Len Lim
Its name wasn't sold initially, instead it was subject to public vote, which returned SkyDome as the public's and jury favourite. To this day many fans call it that way despite the building changing ownership and name in 2005, when Rogers Communications (Blue Jays owners) took over.
Blue Jays remain the key tenant of Rogers Centre, but the building proved suitable to host also Canadian, American and Association Football, all of which enjoyed many events over the years, both domestic and international.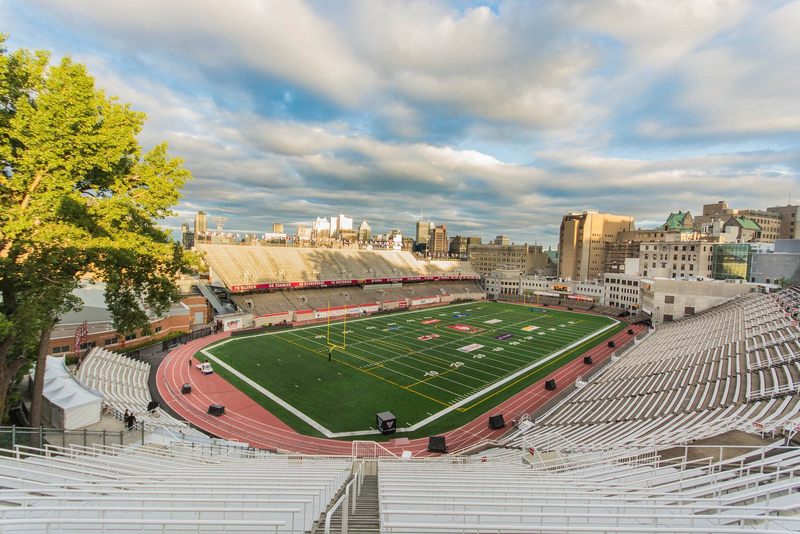 © Christian Proulx
The most centrally-located stadium in Montreal belongs to McGill University and dates back to 1914, when it was delivered (opened later). One of its initiators was local athlete Percival Molson, who later died during the WWI. His will left the university $75,000 for sports infrastructure, which could cover ¾ of the stadium's entire budget and prompted renaming from initial name to honour Molson.
Initially the stadium had only one large terrace in the west, entirely resting on a natural bank of Mount Royal. As natural layout was used, the stand remains very steep to this day, even after being expanded upwards with steel/concrete elements.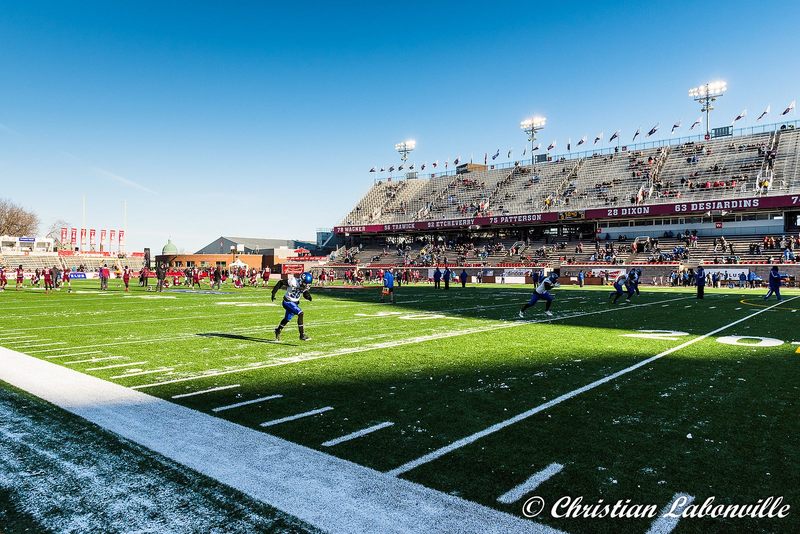 © Christian Labonville
On the other side of the stadium is a double-tiered stand, though it only received the upper deck in 2009, following the latest major expansion that set capacity above 25,000. while the stadium retained its initial athletic track, there's so little room for it that there are only 4 lanes for runners. The south curve is very distinctive for its dense architecture. These buildings hold McGill University's Neurological Institute and Hospital.
The university and its athletes remain primary tenants, though the most recognized team locally is the CFL side Alouettes, who play all regular season games here. Only in the play-off round the team relocate to Montreal's Olympic Stadium.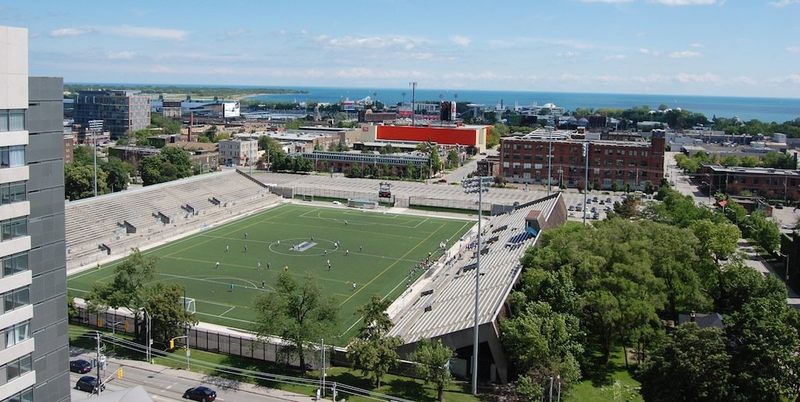 One of Toronto's major sports stadium was built on the site of former women's prison in 1975. With two interestingly designed simple stands surrounded by public green, it was able to hold almost 10,000 people since the opening.
Also from the start the ground was equipped with artificial field, which allowed it to hold many more games than a natural grass stadium. Field hockey, rugby (current national stadium for rugby league) and association football are the most important disciplines to be played here. The latter includes teams of Toronto FC, SC Toronto and recently Serbian White Eagles of the CSL.
The name honours Allan A. Lamport, local politician known for his engagement in sports.