New stadiums: A visit to the hot Moroccan top division
source: StadiumDB.com; author: michał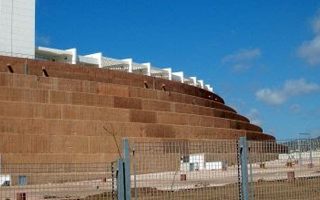 With these three latest stadiums we know have most of the Botola championship represented on StadiumDB. And the latest examples show just how different the Moroccan stadiums are!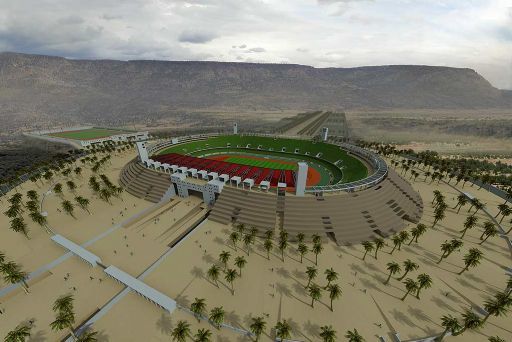 The competition for design of a new major stadium in Agadir was launched back in the twentieth century, when Morocco was bidding to become the first ever African host of the FIFA World Cup. Already then the Italian-Moroccan consortium of Gregotti and Benkirane were awarded the job.
That same design, though upgraded, was submitted as Morocco's bid for the 2010 World Cup, having failed for the 2006 edition. To increase Morocco's chances ground clearing began in 2003. That may have been enough to win some votes and get Morocco to the final vote, but in May 2004 FIFA chose South Africa over Morocco by 14 votes to 10. This effectively ruined the Maghreb country's chances for at least two decades as continental rotation of the World Cup was dropped soon after (in 2007) and bringing it back to Africa became a dim prospect.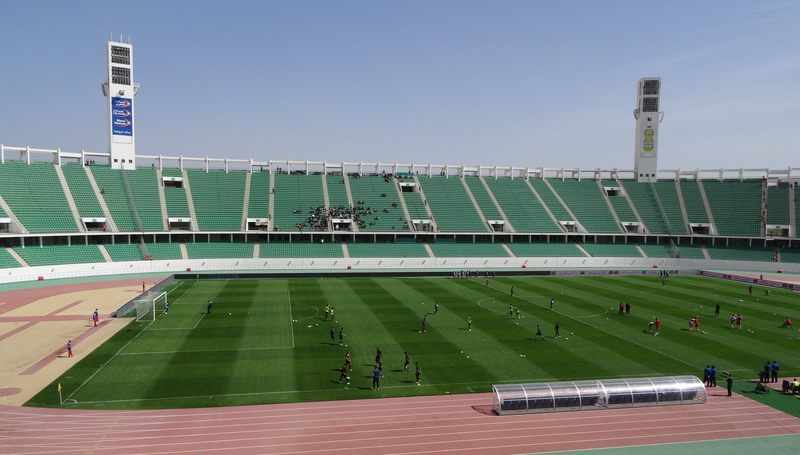 © Groundhopping Merseburg
Despite all that construction was officially launched just weeks after FIFA's decision, in June 2004. But, as the stadium was no longer a priority, financing didn't last for long and it came to a halt until 2007, when it was initially expected to open. Restarted in 2007, by 2009 the build was nearing completion when it was stopped again. It wasn't until Morocco was granted the hosting of 2013 Club World Cup that the project was back on track. It ended up with a budget of 860 million dirhams (roughly €80m / $90m).
This proved to be a very modest sum for 45,000 seats and it was achieved mostly due to minimalized construction cost. Part of the stadium is sunken and the land excavated to hold the bowl was used to form embankments. However, this dated method didn't mean compromising crowd circulation or amenities demanded by FIFA for spectators. Shaded routes encircle the ground, while the cheaper method proved a fine option in terms of seismic resistance, very important in an active place like Agadir.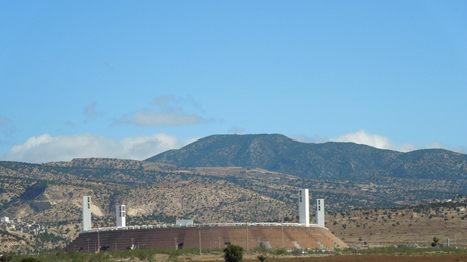 Aesthetically the stadium seems very well fitted for its location. In fact, architects wanted it to mimic the surrounding hills. Thus the shape and natural colouring seen outside. Interestingly, the sloped elevations weren't left as bare ground embankments, but instead are cladded with stone.
Popular club Hassania are nominal hosts of the stadium, but already on opening day it was confirmed this would be an international venue as it hosted the Morocco – South Africa friendly. Soon afterwards the first international event took place: key matches of the FIFA Club World Cup.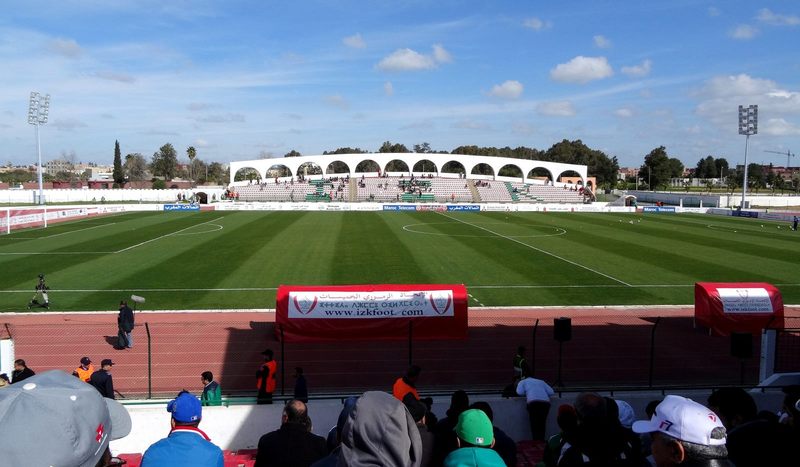 © Groundhopping Merseburg
Largest and most important stadium of Khemisset is located along the main artery from north to south, part of the R404 road. Main entrance, consisting of impressive arcades, is located beside that very road and leads to the eastern grandstand, one of two at the stadium. Topped by aesthetic arcades too, that stand is occupied by most vocal supporters.
On the other side of the field is a modest main grandstand along less than half the pitch. This one, with roughly 300 seats covered, offers amenities for the press, VIPs, players and regular spectators.
Nominal capacity most commonly attributed to this stadium is 10,000. Seems a lot for a venue with only two (and not big at all) grandstands. Especially that in 2013 it was converted into an all-seater and the number of seats – by our count – is 2,666. Still, tickets in Morocco aren't sold only for seated areas, thus the actual capacity is closer to the 10,000, judging by matchday photos.
There were plans announced in 2014 that envisaged a new stand in the southern curve, though not big due to severely limited space.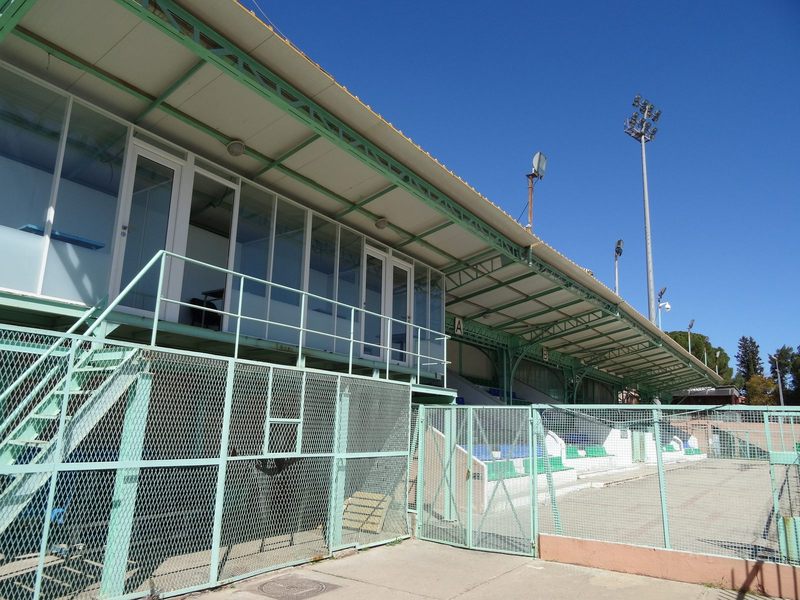 © Groundhopping Merseburg
While vast majority of streets in Khouribga (nearly 200,000 citizens) are clogged with dense residential fabric, there's an area with vast leisure and sports precinct south-east of the centre. This enclave offers amenities of Complexe Sportif du Phosphate, the city's major sports complex with tennis courts, swimming pools and the city's main stadium.
Stade du Phosphate is dated and extremely tightly surrounded with other facilities, making its current size very much the most of what can fit there without major alterations to the surroundings.
In the west there's the main grandstand equipped with seats and a smaller sections for away fans. Interestingly, it's one of few Moroccan away sections offering both seats and cover. The south and east have two separate terraces for home supporters.