New design: Finally a viable stadium plan for Hradec Kralove?
source: StadiumDB.com; author: michał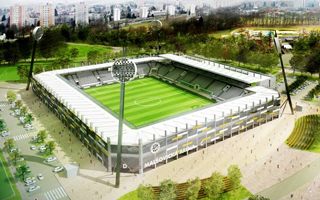 FC Hradec Kralove face license revoke if their stadium doesn't finally improve. And after the public-private plan from 2008 collapsed, now the city wants to build a new stadium on its own.
In the passing week council members of Hradec Kralove decided that their city will build a new stadium for the local club with its own resources. It was also confirmed that the CZK 400 million project ($16m / €14.5m) will not be subject to an architectural design competition. Instead the city will launch a documentation + construction tender for a vision they already commissioned from a local architect.
Current vision
The proposal by Tomas Vymetálek foresees simple rectangular stands with one continuous tier around the field, reaching total capacity of 10,000. The main stand will be somewhat dominant as its extra floor for skyboxes and control room will force locating roof slightly higher.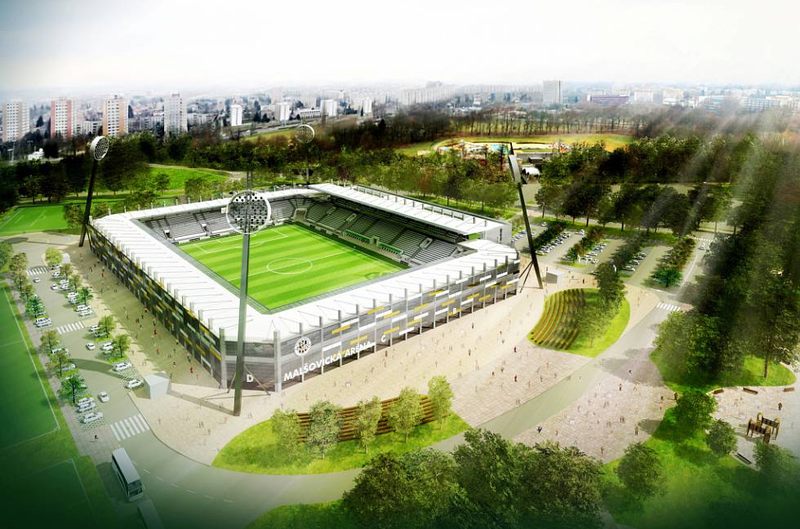 External cladding is proposed as a mosaic of metal web panels. Coloured from white to nearly black and with some gold panels included, these will represent colours of FC Hradec Kralove.
The landfill stands of current stadium will be demolished almost completely. Only pieces of the northern curve are to be left as public green areas. However, existing floodlights, commonly known as lollipops due to their interesting shape, will remain on site. They are to keep the status of a landmark on the southern bank of Orlice River.
What could have been, but won't
It was in 2008 that partnership between private investor ECE and the municipality was announced. In return for building a shopping center just outside strict centre of the city, ECE was to also carry out works on a new 10,000-capacity Arena Hradec Kralove.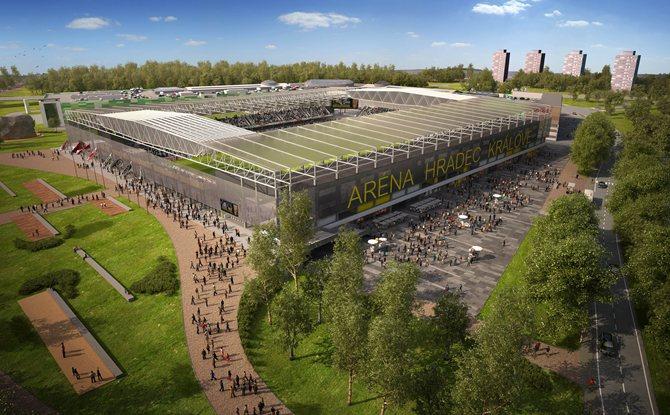 Most of the expenses would be covered by ECE and from profits the company would bring by purchase of land. However, the project had several deadlocks and despite finally receiving planning permission in early 2013, in December of that year ECE backed out. It wasn't until this week (!) that the city officially terminated their agreement with ECE and confirmed compensation claims of CZK 5.4 million.
Going with a cheaper, possibly less impressive stadium financed entirely by the city is a way to aid local club FC HK who are at risk of losing their license. Current Všesportovní Stadion seen below is heavily outdated and needs improvement to retain top league status.