Belgrade: Serious damages after Eternal Derby
source: StadiumDB.com; author: michał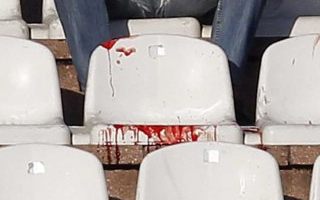 Yesterday's 148th "Eternal Derby" of Belgrade began with scenes of heavy violence in the east and north stands of Marakana. Hundreds of seats and railings were used as missiles against police forces.
Yesterday marked the 148th "Veciti derbi" (Eternal Derby) at Marakana in Belgrade, a fixture notorious for incidents within the rival fanscenes of Partizan and Crvena Zvezda.
On Saturday it was Partizan hooligans who began well ahead of the game, revealing themselves in the eastern grandstand, occupied by non-fanatic Zvezda fans. They tried to fight their way towards the northern curve occupied by Delije, but failed.
However, seeing violence in the east stand, hundreds of fanatics from the northern terrace launched a counter-offensive, effectively stop by police forces. Violence then switched against police riot squads, who were attacked with literally thousands of missiles, largely seats and some railings ripped out from the stand. Easternmost section of the Delije curve was left nearly entirely bare, with few seats in place.
The incidents also broke one symbolic rule: it was the very first time since 2006 that police squads actually entered the Delije stand after an under-cover officer was nearly killed after being discovered. This time things also ended with serious bloodshed as numerous fans suffered from head injuries. Complete number of injured fans is unclear, while 35 police officers were reported injured. 41 people were arrested in relation to the incidents.
Despite the disturbing sights preceding the actual game, matchday schedule wasn't abandoned (game started 40 minutes late) and the game was carried out almost without disruptions. Largest of those were pyrotechnics displayed be fans on both sides of the stadium, some landing on the field of play.