Belarus: BATE unable to fill Borisov Arena
source: Tribuna.com; author: michał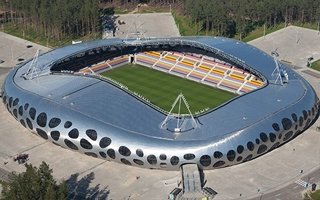 Domestic champions, playing in Champions League. And yet BATE are unable to fill 50% of their new stadium on regular basis. Even the Dinamo Minsk derby is disappointing.
It's common to see a significant increase in turnouts after moving to a new stadium. Sometimes referred to as the "new stadium effect", this tendency is hardly noticeable in Belarussian city of Borisov. to date BATE haven't sold more than 10,000 tickets for any (!) domestic fixture, not mentioning a 12,000+ sell-out.
BATE are successful, won the domestic championship in 2014 yet again. And still their league attendances are barely in excess of 5,000. Even the regional derby against Dinamo Minsk drew just 7,000 to the new Borisov Arena.

© Tribuna.com
Is it perhaps that fans await for European glory? BATE managed to establish themselves as a decent European side in recent seasons, qualifying to the Champions League again last year. They may have been severely beaten by FC Porto and Shakhtar Donetsk, but won against Athletic Bilbao too. All of these games had crowds of roughly 11,000 on average.
Andrey Koriakin, manager of the club, is still disappointed by the attendances. "To me as a visitor it's satisfying that I can go around the stadium and use all services without queues. But of course in terms of atmosphere I'd rather see the stands full", says Koriakin, who admits BATE lacks the kind of devotion or "club patriotism" many clubs enjoy.