New stadiums: Dutch second league stadia
source: StadiumDB.com; author: michał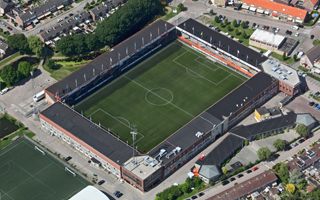 5-10 training fields beside a second-league stadium? Things like these only in the Netherlands! Over the last hours we've added five new venues of the Jupiler League.
Thanks to the priceless help of our correspondent Dave van der Schoot in the Netherlands we can now present to you five stadiums of the Jupiler League, second tier in the Dutch football system. Links to respective presentations can be found in the headlines below and in the 'related' tab on the right.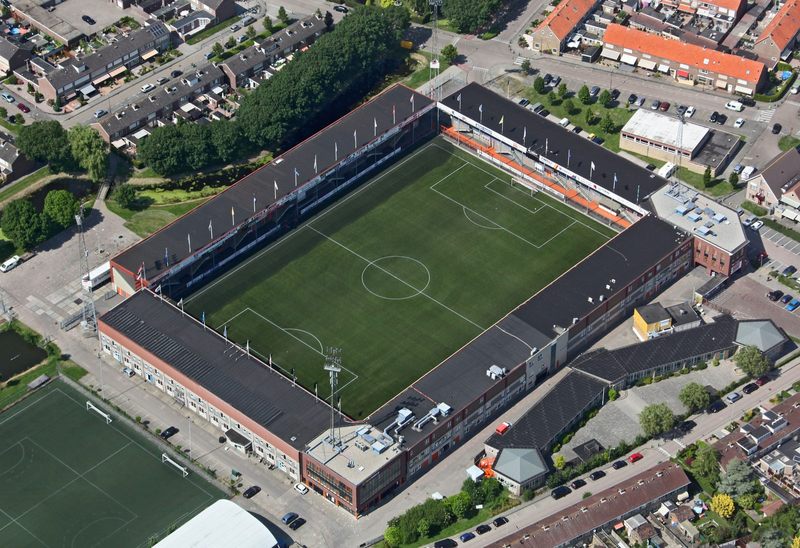 © FC Volendam
The stadium in Volendam, north-east of Amsterdam, lies nearly at the heart of town. While there was enough room to build 8 full-sized training pitches just by the ground, stands themselves have historically been adjusted to local buildings and have goals in the east and west rather than north and south.
Opened in 1975, the stadium had three covered stands until recently. In 2010 the north side was demolished and rebuilt to resemble remaining grandstands. Later multi-use pavilions were added in two southern corners, enhancing the main grandstand. Since 2007 artificial field has been used.
Until 2002 the stadium was known as Veronicastadion.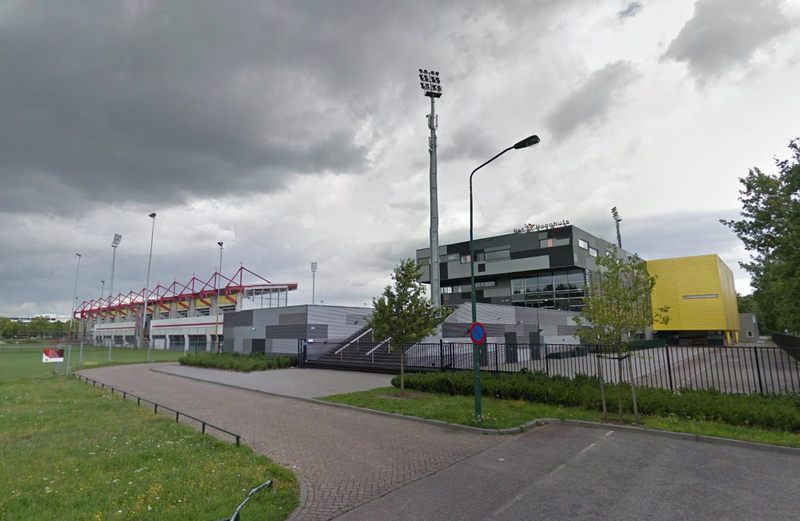 © Google Street View
Under construction for Tyree years, the stadium in Dutch town of Oss consumer roughly 13 million guilders (or under €6 million as currency changed). Initially it was opened in the south with no grandstand built there, but that end was enclosed with a new educational facility after over a decade.
The stadium lies in a complex of five full-sized football fields south of central Oss. It's capacity of over 4,500 people (with 300+ for away following) proved to be beyond sufficient for local needs.
Starting 2011, the stadium bears the name of Frans Heesen, a yacht manufacturer who contributed a lot to development of local football.

© Achilles 29
The town of Groesbeek in the suburbs of Nijmegen has two known stadium. The northern one belongs to Achilles '29, who – as the name suggests – played their first game here back in 1929. The team hasn't moved to another location since, though the role of main field rotated between two local pitches. Currently the western one is primary, boasting two modest grandstands and some terracing.
Maximum capacity of 4,500 is only an estimate, because crowds of this size aren't seen here. However, on various occasions well over 2,000 people attend games. Largest recorded crowd to date (3,886) gathered in 2008 for the local derby with De Treffers from southern part of town.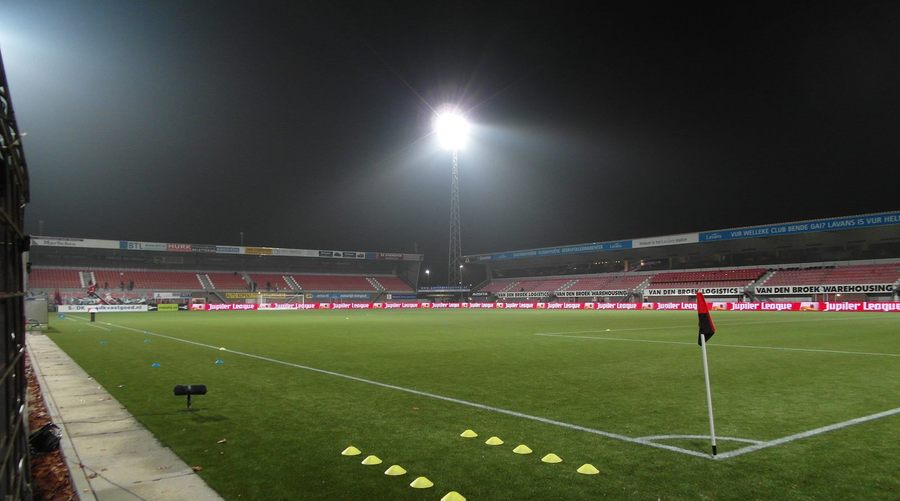 © Steffen Hüther
Historically known simply as De Braak, the stadium was opened in 1967 east of the centre of Helmond. It lies in a complex of 10 (!) full-sized training pitches, which proved to affect its blueprint.
When completely rebuilt in 1994-2000, it was fitted between the fields and family housing in the south, where no end zone was possible to build. Instead a new east side (noticeably with skyboxes along the field) was opened in 1994, west side in 1997 and a north end replaced terracing in 2000.
Eventually building a new stadium for Helmond Sport is contemplated in a new location.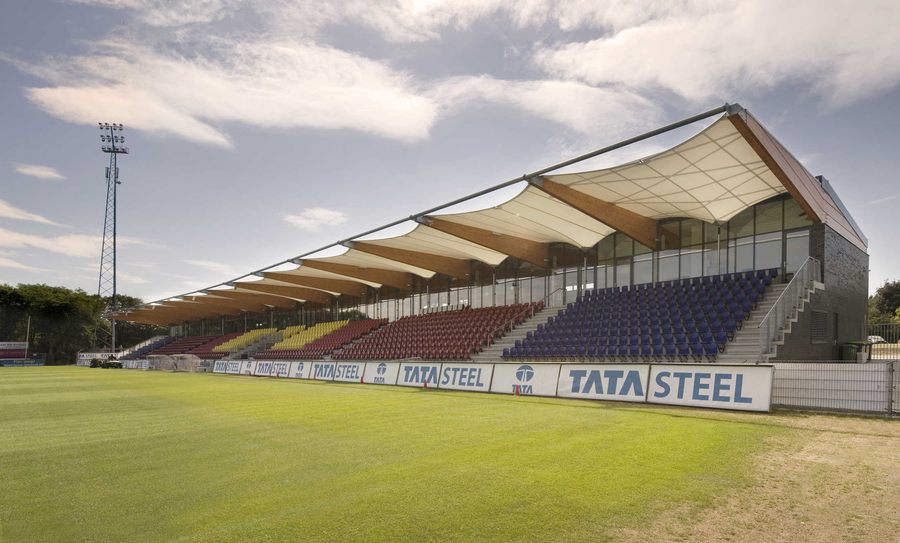 Surrounded by forests, this rural stadium not far from Amsterdam was opened back in 1948 and live to see a rebirth in the twenty-first century. Brand new main grandstand was opened in the west, designed by Zwarts en Jansma Architecten.
The stand represents a distinctive aesthetic approach with glass and dark brick interacting in the elevation, while wood and lightweight cloth create a very "green" roof. The use of membrane to cover spectators also assures high sunlight access to the inside, where modular hospitality areas are created. There was also a renovated east side grandstand already in place. In 2010 a new south stand joined, while the old northern terrace is closed off.