Milan: Inter to take over at San Siro?
source: ilGiorno.it; author: michał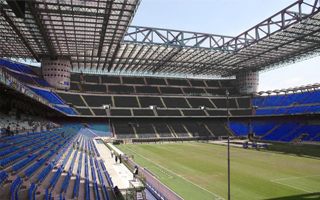 Whoever leaves the legendary stadium first, also leaves the structure to the derby rivals. Now that Milan is closer to relocation, talks of Inter's future at San Siro intensify.
It's already been a few days since Italian media are discussing the future of San Siro. One thing nearly certain for Italy's biggest stadium is that it won't be left unused. Though both clubs have announced readiness to relocate in recent years, their stances depend on who makes the first step and leaves behind the stadium to archrivals.
As AC Milan is currently the one most likely to leave, Inter is reportedly very interested in conditions of take-over at San Siro. According to Il Giorno (and similar releases in other media), the Nerazzurri offer to invest €70-80 million ($77-88m) in return for exclusive rights to the stadium.

Photo: Clive Stonebridge (cc: by-nc)
Whether ownership or only exclusive operating rights, such a deal may seem problematic for the municipality, who own Stadio Giuseppe Meazza. Both legally and in terms of city's actual event demand this might not be feasible.
A different issue to solve for AC Milan, Inter and the Milan municipality is the current stadium lease. Both clubs agreed to cover €4.5 million each every year until 2030. New conditions will be subject to negotiations.
And finally, AC Milan aren't sure of leaving San Siro just yet. The Fiera Foundation will make their final decision in mid-April whether to approve the club's new stadium bid or find a different investor. Rossoneri are reported to analyse a couple other locations for their future home, but rejection by Fiera Foundation would certainly lose them some valuable time.