England: Reading FC stadium has one step higher
source: StadiumDB.com; author: michał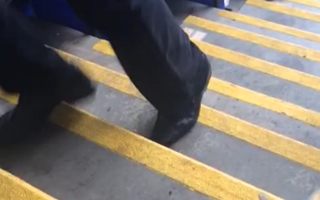 Is this really newsworthy? More than one might think. Apparently the slight difference in height between steps makes a big difference for people who constantly trip on the higher one.
It's not easy to say what's more unusual about this story: whether height of a simple stair being the issue here or the fact that it already went viral worldwide? But for the last three days this short clip was looped nearly 800,000 times and made rounds in articles around the globe.
What's at issue here is the height of one single step in row S of every section at Madejski Stadium, Reading. Apparently the height difference isn't noticeable for many people who, instinctively, raise their legs only as high as in the previously passed rows.
Which ends with some of them tripping, some really falling and – according to local website GetReading.co.uk, some spilling hot drinks on themselves. Thankfully in vast majority of cases it's amusing rather than dreadful.