Donetsk: Donbass Arena becomes a humanitarian aid hub
source: Reuters.com; author: michał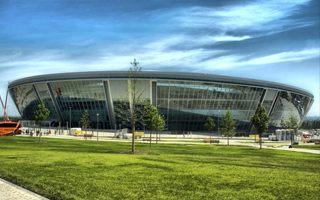 Instead for tickets, Donetsk citizens were standing in line for food and sanitary products today as Donbass Arena was transformed into a humanitarian aid distribution centre.
After months of war it's a lot more peaceful in Donetsk now as seize-fire is in force. Donetsk residents yesterday queued in front of Donbass Arena to receive humanitarian aid packages with food and other products. According to organizers each person should get through one month with their package.
"In our region, in Donbass, unfortunately I have to say that all aspects of the humanitarian catastrophe can be observed. An we're doing all that we can for people to simply survive", said one of the coordinators, quoted by Reuters.
The aid distribution was sponsored by Rinat Akhmatov, owner of Shakhtar Donetsk and the stadium. While the gesture maz bring hope to locals, Shakhtar as a football team will remain settled in Lviv for the remainder of this season and, most likely, also for the opening of the 2015/16 campaign.