Athens: Residents lose against new stadium for AEK
source: GreekReporter.com; author: michał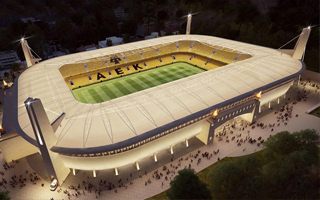 The Greek Council of State rejected an injunction by the Nea Filadelfia-Halkidona municipality, Greece, and residents there against the construction of a new stadium for AEK FC, in a plenary decision behind closed doors, it was announced Friday.
The municipality and the residents filed an injunction calling for the cancellation of a decision by the decentralized Attica administration dated November 3, 2014, with which it had amended and updated a study on the "protection, management and remodeling of the Nea Filadelfia grove."
The controversial study had been approved by the Attica district forestry directorate, opening the way to construction of Agia Sofia. Initially groundbreaking was expected already in early 2014, but various factors contributed to the growing delay.
The residents said the planned AEK sports and multi-purpose center on 29,121 square meters was unconstitutional and contravened European and Greek legislation.