Poland: Clubs withdrawing obligatory fan cards
source: StadiumDB.com; author: michał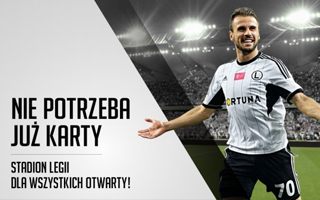 Legia Warszawa is the largest and latest Polish football club to abandon mandatory use of fan cards among supporters. Cards have proven to be counter-productive and contributed to falling attendances.
Legia Warszawa are currently the most popular club in Poland with over 300,000 fan cards sold. The high number is a direct outcome of the existing legal situation. Since 2009 cards were obligatory at nearly all clubs of the Ekstraklasa and in recent years were also introduced in many lower league sides.
Initially supported even by the national football supporters association OZSK, introduction of the fan cards was argued to improve safety during football games. While the Mass Event Safety Act from 2009 doesn't directly impose a fan card system onto clubs, this solution was widely considered the best option for executing new, strict regulations regarding identification of every viewer. Upon entry to the stadium, every fan had to provide personal data and a photo, all of which could be carried on a plastic card.
In theory, it only takes a few minutes to acquire a fan card and later it may be used as a pre-paid or discount card, facilitating transactions at the stadium. However, after over four years in operation, the systems (there are several connected with one central database) produced no solid evidence to support the argument of improved safety.
Counter-productive?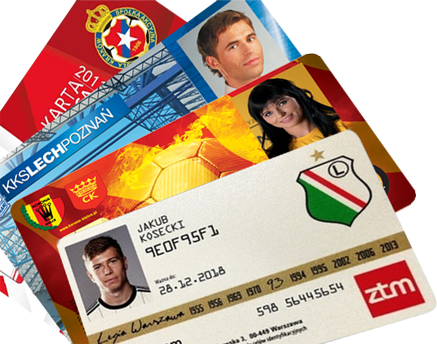 If anything, the fan cards proved to discourage regular supporters from attending football games. Despite immense publicity of Euro 2012 in Poland and literally dozens of new stadiums, attendances during games only initially went up just to plummet in following seasons. Last season (2013/14) may have been record-breaking in Ekstraklasa's ticket sales, but that's only because the number of games was increased, while average crowds actually went down for most clubs. For some very painfully – Lech Poznań lost over 3,000 fans per game, while Śląsk Wrocław over 4,600.
And according to the Ekstraklasa and PZPN (Polish FA), it's largely because of how difficult it became to enter a stadium. Submitting significant amount of information and a photo of oneself only adds to already strict searches upon entry and constant CCTV surveillance. The literal argument used by Ekstraklasa SA safety advisor Dr Seweryn Dmowski in Nov 2014 was that "it's easier to board an airplane than get inside an Ekstraklasa stadium". That same argument was surfacing regularly from 2013, first used by Ekstraklasa SA vice-president Marcin Animucki.
This is why after roughly two years of the fan cards, Ekstraklasa started backing down. In February 2013 the company managing Poland's top league suggested to loosen national legislation and suggested to abandon the mandatory photo for facial recognition, leaving only a fan ID number assigned to each supporter. By Autumn 2013 the company went a step further and asked for even that number to be waived, while fans would be supposed to only present their personal ID document with their nationwide personal number, not own a separate fan card.
Last year the Parliamentary Commission of Sports and Tourism began working on amendments to the Mass Event Safety Act and surprisingly for some decided to include demands of the Ekstraklasa to abandon fan ID systems. Currently after first reading and awaiting final touches, the new legislation will allow every fan to buy a ticket with only a personal ID. No more fan cards, no obligatory photo. Depending on the pace of parliamentary works, new rules may apply already in the 2015/16 season.
Drop the cards!
Mentioned at the beginning, Legia Warszawa is the latest Polish club to announce one would no more need a fan card to enter Stadion Wojska Polskiego starting… this weekend. Like in many clubs across Europe, cards will remain in use for season ticket holders and frequent viewers, but finally tourists and newcomers won't face the data processing once they arrive at the stadium.
Legia's move was widely celebrated in Poland yesterday with numerous media articles as the mood quite clearly turned against fan cards among supporters. Even Legia themselves constructed a slogan announcing that the stadium now "is open for all!".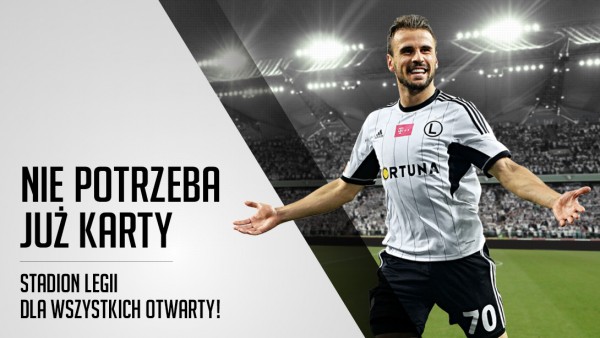 The above reads: "No card needed any more, Legia's stadium open for all"
Legia, though their 300,000-card count may sound impressive, argued yesterday that the move comes after extensive research. "Based on our research and discussions with fans the mandatory card was treated like a burden and not facilitation. Many people even declared they didn't go to our games specifically because of the additional formalities", says Legia's vice-president Jakub Szumielewicz.
Though they're clearly the most publicized, Legia aren't the first to go that way. In fact, they're already the 7th club in the Ekstraklasa to stop asking for the much disliked cards. Cracovia, Górnik Zabrze, Korona Kielce, Lechia Gdańsk, Piast Gliwice and Śląsk Wrocław already did that. One more team and half the league will already be free of this obligation. Who's next?