New design: Olsztyn Municipal Stadium by Bauren
source: StadiumDB.com; author: michał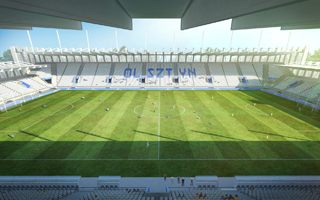 The issue of Olsztyn's new stadium has been a burning one for years and all attempts end with an anti-climax. Another failed approach came just days ago. But while it failed, this design is very much worth knowing.
Olsztyn is one of the north-easternmost cities in Poland and in its region has for decades been a football hub. Funded by the tire factory Stomil, local football club has enjoyed some success on national level and used to be the pride of Olsztyn. Back in early 1990s, local stadium also seemed impressive, but those days are long gone now.
Plans for a brand new stadium had been drawn for the first time a decade back and the road to fruition proved extremely hard. The municipality used various means to reach the goal: there was an attempt for public-private partnership in which the stadium would be built privately in exchange for locating a mall next to it. Failed. Then the municipality attempted to sell the existing stadium and build a new one on the opposite end of the city. Failed. Currently it's "back to the drawing board" with a new attempt at gradual redevelopment of the structure.
Latest plan for Olsztyn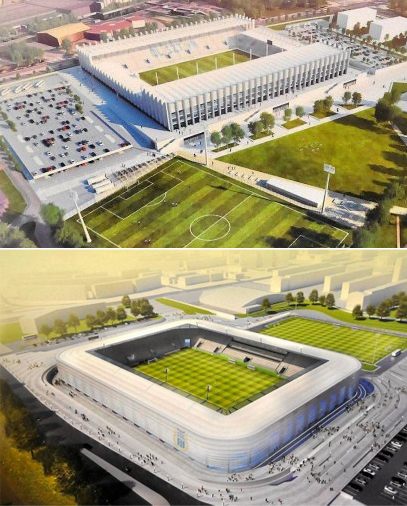 In the summer of 2014 framework for the scheme was created. One stand after another, the stadium was to be built to reach 12,000. During all phases it was to be used by Stomil with no less than 5,000 seats available, which makes the project more challenging. Additionally, architects were to plan for parking sites, training field and leave enough room nearby for a 100-bed hotel.
In late 2014 two bidders submitted their visions of the arena. Bauren is recognized domestically for its indoor halls, though also has one stadium design awaiting implementation – the new Katowice Municipal Stadium. JSK Architekci is much more well-known with some of the most impressive stadia in Poland in its portfolio, including Stadion Narodowy, Stadion Wrocław and Stadion Wojska Polskiego.
The city had 1.6 million zloty allocated for the entire documentation process. Bauren offered to deliver the project for 1.2 million, while JSK priced their work at 3.6 million. However, the choice was never made – in early February 2015 the municipality announced both bids were rejected on formalities.
Neither of the design teams agreed with arguments of the municipality. JSK Architekci filed an official appeal, while Bauren abandoned the case with a strong statement. "Despite completely disagreeing with vague accusations of the city, which were used as doubtful excuse to reject our bid, we will most likely not file an appeal. It's apparent that the highest interest of the officials was to cancel the whole tender, even at the price of designers, who prepared the bid in a straightforward fashion and in good faith".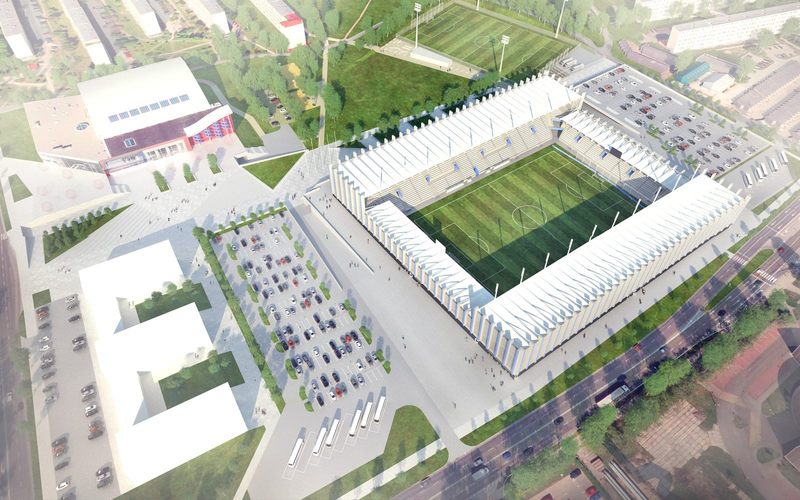 © Bauren
The city's expectations didn't only ask for a phased development of the stadium, but also strongly suggested creating a very compact building, of around 21 meters in height and 140 in width. Addressing these guidelines, Bauren managed to fit the stadium within 23 meters at highest point and very much in line with other spatial requirements.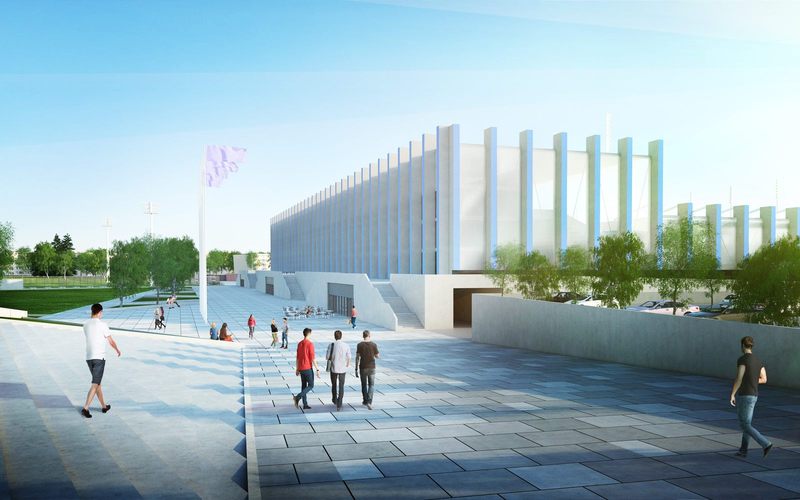 © Bauren
Aesthetically the stadium is characterized by repetitions of single elements, which create a distinctive and rhythmical outer form. Between the primary structural columns a lightweight and translucent webbing would be mounted, creating an interesting contrast between roughness of the concrete and smooth membrane-alike material.
The rhythm of the building is to be a synthetic association with traditional regional architecture, based on similar rhythm of wooden supports between brick walls. To add to that, using repetition of many elements makes the structure a lot cheaper and the issue of cost is key in delivering the stadium.
© Bauren
First one to be built is the new east stand, offering 5,004 seats in 22 rows. Western grandstand with VIP (504 seats), media (68), disabled (28) and player facilities would have a slightly lower capacity of 4,579. End zones would be mirror reflections of one-another, each holding 1,360 people. Southern one would serve local fanatics, while the north would have 676 seats for the away team.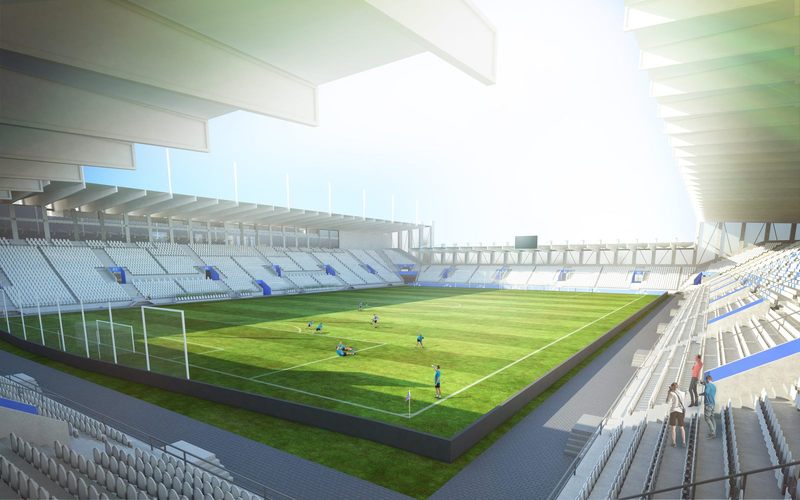 © Bauren
Bauren utilized the natural land levels (plot is lowering towards the west), creating space divisions. The stadium sits upon a pedestal in the west, while is accessible from ground level in the east. This allowed connecting it with western open spaces of local park and swimming pool complexes. Parking sites required by the city were created in two significant locations, each accessible from a different street to better avoid congestion on matchdays.