Brussels: National stadium selection in 6 weeks?
source: nieuwsblad.be; author: michał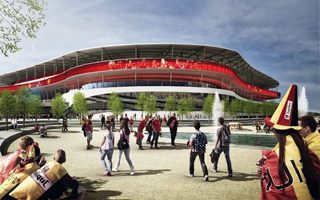 All three contenders made it to the final stage and are now awaiting evaluation. The best concept will hopefully be known in mid-March. Planning permit should follow shortly for the Euro 2020 venue.
Three large consortiums are still in the running for the national stadium in Belgium. Candidates managed to submit their final plans before the deadline on Monday. Now all documents are being evaluated.
This is already the third phase of concept evaluation for all three bidders wanting to build the next national stadium for Belgium. "We hope to choose the project within the middle of March to issue the building permit shortly", says Alain Courtois, running the project for regional parliament.
Selection will not be made based on business model or projected revenue, because the project will be entirely private. This means profit or loss is the issue for investor, while local authorities "only" need to select the best investor to be granted freehold for the ground.
Along the plan, new national stadium for Belgium is expected to hold 60,000 people and be built in 2018. RSC Anderlecht and the national team will both play host, while filling the remainder of event calendar is up to the stadium management. The stadium was already selected to host Euro 2020.