Stadium of the Year 2014: Public vote begins
source: StadiumDB.com; author: michał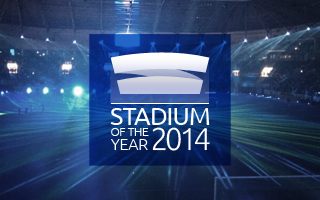 For one month everyone will have the chance to be part of the world's largest stadium vote. This year it's a tough choice with record list of 32 nominees from around the globe.
Public Vote: Ready, set, go!
All-time high of 32 stadiums from around the world are nominated in this year's Stadium of The Year competition. Now we ask you, our readers, to select the one you consider best. Or actually, to select the top five from all 32 nominees. Once all your votes are cast, our system will summarise points and select the winning stadium.
As every year, the only way of voting is through our online voting platform. It presents all nominees and allows you to browse through their presentations before voting. You may take your time to visit all links, because the vote closes in one month from now, on midnight Feb 17 (CET).
Last year's edition brought record number of participants, over 25,000 people from across the globe. You made this vote the largest worldwide. Thank you and please do us the honor and vote this year too!

Jury Vote: coming soon
It's the 5th edition of Stadium of the Year and so we're moving a step forward. Aside from the Public Vote, this year we're also launching Jury Vote. Several architects with impressive stadium experience will browse through the list just like you and select their Stadium of the Year.
Details of the Jury Vote will be released next week, so be sure to check back soon. What we can reveal is that the Jury will vote based on four criteria: visual impact, relation with surroundings, innovation and value for money.
This means in 2015 we're giving not one, but two titles of Stadium of the Year. But will they go to two different stadiums or only one? This will be revealed on February 19, when we'll announce the winner(s).