Stadium of the Year 2014: One day, two records!
source: StadiumDB.com; author: michał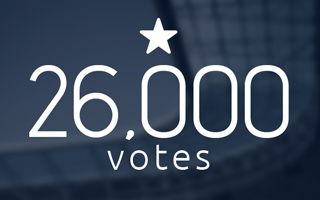 Already on the fifth day of our annual vote two records were broken. It's the most popular edition of all so far, which also means that the stadium ranked highest gained more points than previous winners.
When we checked the nominee list with 32 great stadiums from around the world, we knew this year's edition of Stadium of the Year is going to be special. But only now your participation is proving to us how special it really is!
After four full days of voting already over 26,000 people have cast their votes, breaking last year record of public participation. Thank you very much and since we've still got weeks of voting ahead – please don't stop.
This also means record number of points were awarded. And the leading stadium right now has over 51,500 points on its account, more than any Stadium of the Year award winner before.
If you haven't voted yet, there's still plenty of time. The voting platform is open until February 17. To place your vote, just select 5 top stadiums (giving them 5, 4, 3, 2, 1 star notes) and press the VOTE button. Only this way your vote will be added. It may be counted only once, so be sure to select your favourites.
Additionally, also the Jury Vote has began. It will run separately to the Public Vote and result in a separate Stadium of the Year title. Right now six renowned architects are analyzing all 32 entries. Details of the Jury will be announced later today, so check back soon.