Russia 2018: Works in Saransk need to speed up
source: Euro.Futbol.ru; author: michał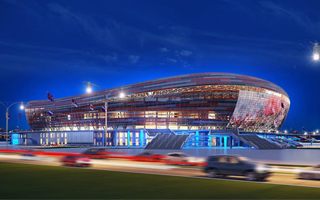 Since they've been halted in 2013, almost nothing new has happened on the site of future World Cup stadium. Authorities have no doubts: progress needs to be faster.
Yesterday a high-profile working meeting was held in Saransk. Both Mordovia Republic and federal authorities of Russia were present, discussing the situation at Stadion Yubileyniy, the future World Cup venue. "There should be clear operational coordination, otherwise we will not meet the deadline", said Vladimir Volkov, head of the regional government.
Currently only some 100 people and 35 pieces of equipment are working on site, preparing for full-scale works to begin. The stadium needs to be delivered in 1.5 years and time is of the essence now. Within two months employment on site should grow to 300 people, while first batch of concrete will be tested in upcoming days.
Construction is already beyond foundation phase and first elements of the lower ring are already in place. All that, however, was built by 2013, when the project was financed by local government. Works came to a stop then, waiting for takeover by federal authorities. Current situation on site doesn't differ much from 2013, as seen in the below photo: