Innovation: Indoor hall under the stadium
source: StadiumDB.com; author: michał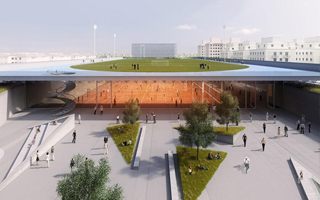 It sounds oddly and is odd, because you don't see a stadium hover over public space every day. But this unique design deserves to be noticed for creating that public space where there was very little space for it.
It's not entirely a technological innovation. We've seen more than one football field built on a raised ramp. But this approach at building a complex friendly for its users despite special constraints deserves recognition.
The concept by OSPA office of Porto Alegre won first place in open competition for the campus of local Health Sciences Federal University (UFCSPA) back in 2014. Now it's awaiting implementation for solving an uneasy task of fitting numerous amenities on a limited plot. Should architects use traditional infrastructure, building academic facilities, indoor sporting hall and an athletics stadium would consume all of the available plot, leaving no room for additional uses. As seen below.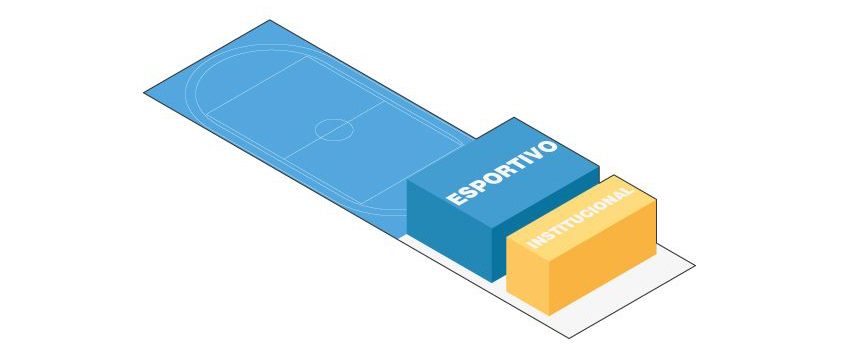 This is where OSPA decided to combine the stadium with indoor sports fields by integrating three basketball courts, a tennis court and two swimming pools under the football/athletic stadium. The stadium will be sitting on a ramp of steel trusses spanning over the entire width of the complex. This way, with nearly none internal supports, the field seems to be levitating.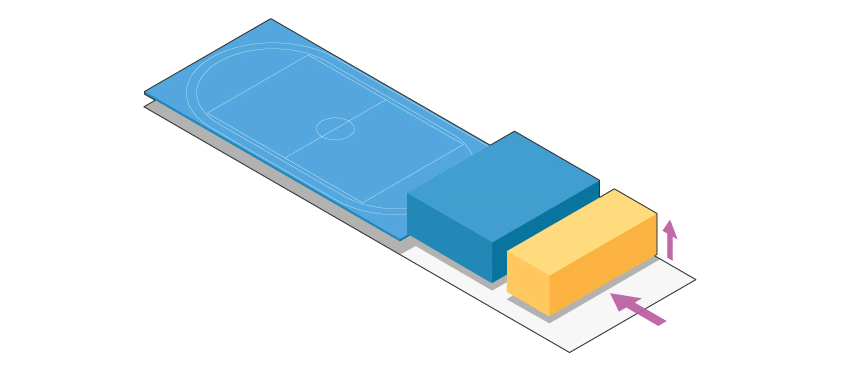 Additionally the academic facilities were divided into two separate buildings on both ends of the campus. This way congestion of infrastructure in one part of the site was avoided. Also, as the buildings are elevated and have tunnels underneath, they each form gates allowing easy access inside.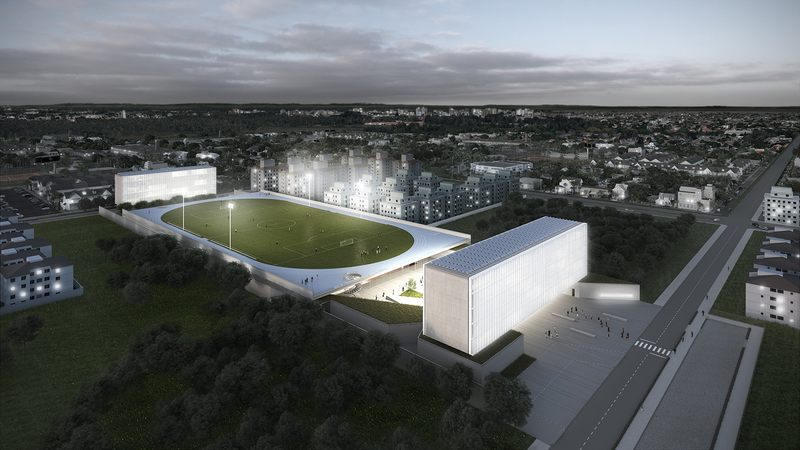 With all the above means UFCSPA's new campus can be delivered as a phased development. And when operational, it will become a semi-open public space nearly throughout its length. The airy and lightweight architecture provides good ventilation and allows to collect rainwater for internal use. Also, enough room was created to supply significant percentage of public green. There's a large plaza, park and even a semi-covered amphitheater.