World Cup 2018: Bombs and shells fund at Volgograd construction site
source: Itar-Tass.com; author: michał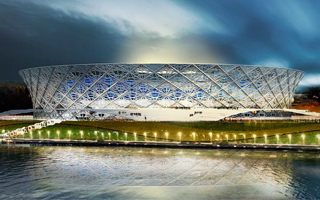 Before Rotor Arena is built, remains of the old stadium need to be removed. And it's no surprise the site was problematic due to WWII remains. 10 missiles were found during demolition.
Volgograd, formerly known as Stalingrad, was the site of one of WWII's most famous battles, thus it's no surprise the ground still hides some "souvenirs" from that period. During demolition of the old landfill stands of Rotor Volgograd's stadium there were 10 missiles of various kinds found.
Though expected, this did influence demolition works. However any delays caused are not significant and the site is now secure to proceed with World Cup 2018 changes. Nearly all of the former stadium has been removed and construction should begin early next year.
Rotor Arena (working name) should be delivered in 2017 and within the budget of 16.4 billion rubles. Although with the Russian currency's unstable exchange rate and tendency of projects across the country to inflate prices, it may prove more expensive. The stadium will hold over 45,000 people.