Qatar: $6 for pretending to be a sports fan
source: Associated Press / StadiumDB.com; author: michał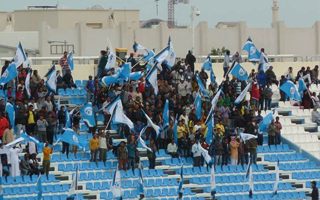 Two thirds of Qataris are against it, but paying migrant workers to be a "fake crowd" is widespread in Qatar's professional sport events. And many immigrants are happy to add something extra to their paycheck.
The Qatar 2022 World Cup bid presentation back in 2010 assured FIFA that people of Qatar have football deep in their hearts. Now it seems to be burried deep under other passions as vast majority of Qataris didn't bother to see any live sports event in 2013.
According to a poll by Ministry of Planning Development and Statistics, only one in three locals went to a sport event in 2013, while two thirds indicated that "fake fans" were among discouraging factors for them.
As it was brilliantly depicted by Associated Press reporter in Qatar, it's not uncommon to pay migrant workers to actually turn up at a game and avoid the depressing look of an empty stadium.
They're picked up from their dormitories by buses and transferred to the venue. Once there, they're expected to act interested – follow events on the field, clap, engage in Mexican waves, sometimes even wave flags or dress in traditional Qatari white robes and head-scarves to look more local.
Still, the dealings are hardly worth disguising, especially with most workers wearing much cheaper clothes than locals and being of varying ethnicities (from central Africa to the likes of Nepal or Myanmar).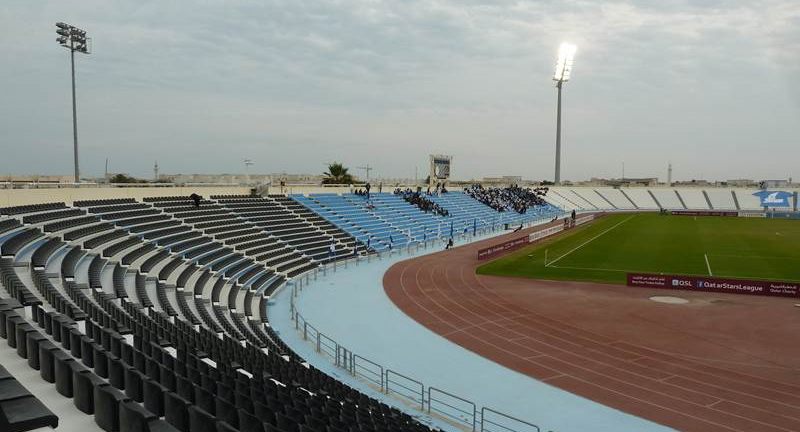 © Frank-Jasperneite.de
Besides, with the Qatari football league drawing 200-1000 people into stadiums 10-20 times that size, one can easily spot groups not fitting the picture. Like in the above photo from Wakrah, one of the host cities in 2022. They form a diverse group on the side of other fans, as if they just got off their bus. Which is very often the case.
For attending sports events the workers are paid from 20 to 50 riyals ($6-14, €4.5-11). This wouldn't be enough to buy one pint of beer in any of the luxurious hotels across Qatar, but buys three days of food for a worker, on condition that he runs the common one meal a day "diet". That's a bonus many workers cannot afford to pass by, even if sometimes it's more time-consuming than one would expect, equaling $1 per hour.