Prague: Sparta stadium to lose some seats
source: e15.cz; author: michał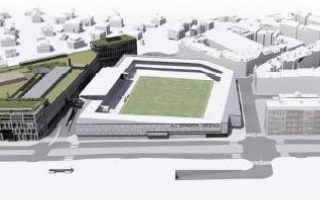 By autumn 2018 the Generali Arena will be downsized to 18,251 seats after alterations are planned in the south and east. Office spaces are to be added to the stadium.
Owner of Sparta Praha is planning major investment into the club's infrastructure. But supporters shouldn't get over-excited yet, because most of the changes won't improve their matchday.
The project isn't really aimed at changing Generali Arena as much as using the location's commercial potential. Daniel Křetínský wants to build a 115,000sqm leisure centre with shops, cinema, fitness club and company apartments of Sparta.
Most of the new complex will be located where the current training field is, but additional spaces will also run along the south and east stands, forcing a reduction in capacity (1,165 seats less than currently). The project could be launched in 2016 and if so, delivery is planned for autumn of 2018.