Belgium: All three candidates still running for national stadium
source: standaard.be; author: michał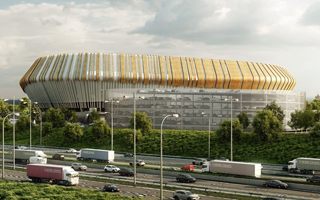 Each of the three initial bidders met yesterday's deadline and delivered a more detailed bid for the national stadium in Brussels. Final selection coming up in January 2015.
We've first shown you the three concepts competing to become the next national stadium of Belgium in September. By November 5 each competitor was expected to submit a more detailed bid in order to remain in the race. The deadline was later postponed to Dec 1 and all three managed to file their proposals in the very last minute.
This means there are still three options to choose from and now all of them need to work hard on their final dossiers, including pricing and detailed business model. The final offers are expected by January 31, 2015. Selection of the preferred bidder should take place soon afterwards.
The new national stadium is to be built close to the current Koning Boudewijn Stadion in Brussels, this time without a running track and with capacity in excess of 60,000. The successor will be a completely private venture, which is why the operating model and price (currently estimated at around €314m) is so important. Two key tenants will be Anderlecht and the national team.
All three bids may be found in the right column, next to the article.