Zimbabwe: Tragedy after mass in Kwekwe, 11 people dead
source: BBC.co.uk; author: michał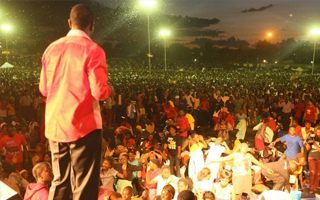 The scenario seems just too similar to other disasters at African stadia. Entry gates closed and panic in the dense crowd resulted in 11 people losing their lives.
Yesterday's mass with charismatic preacher Walter Magaya gathered thousands of people in central-Zimbabwean city of Kwekwe. But as they were trying to leave after the ceremony, the crowd met closed gates. Only one was left open by the police, resulting in extreme congestion at the gate.
It's not clear at this point what happened next, but for some reason panic broke out and spread quickly among the thousands in attendance. Unofficial sources claim police officers fired tear gas to force the congested crowd to disperse. Though it sounds extremely irresponsibly, this wouldn't have been the first such case in Africa. However, police forces argue no such thing happened.
Still, 4 people were killed on site, while 7 of the injured were declared dead upon arrival to hospital.
Mr Magaya, head of the Prophetic Healing and Deliverance (PHD) Ministries, told a local newspaper that when he learnt of the deaths, it was "the saddest moment of my life".