Poland: Private partner to help resurrect Świętochłowice's sleeping giant?
source: StadiumDB.com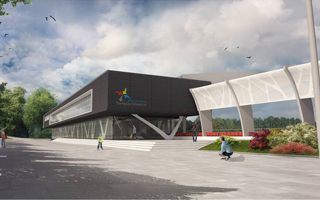 It's the smallest stadium on StadiumDB at the moment, but only by number of seats. In reality it's a large stadium, too large for the city to handle. After years of negligence hope may have come to Świętochłowice.
Geographically the stadium lies nearly at the heart of Świętochłowice, in a picturesque leisure complex Skałka, beside a lake. But it's the kind of untroublesome heritage many Polish cities were left with after previous regime – a building easy to erect, but oversized very hard to maintain.
As a result, the stadium has been falling in neglect for decades now, while local speedway team Śląsk, honoured and popular domestically, went bust and was dissolved. Now things may change as the city commissioned a thorough analysis of potential Public-Private Partnership. Collect Consulting, the company working on it since August, presented their evaluation on Friday.
"Based on our research, private partners are interested in this venture. Among main arguments to invest in the stadium is the speedway tradition, but also the continuation and consistency of Skałka complex renovation", says Małgorzata Okularczyk-Okoń, president of Collect Consulting.
The company invited Polish and foreign companies to express their interest and claims results are encouraging. The dated landfill stadium would be mostly retained, though revamped to fit current needs more properly.
First, the most exposed western side would be renovated and covered, also equipped with a significant pavilion to house commercial functions. The east stand would be completely destroyed. Today's size is too big, so it wouldn't negatively affect it, meanwhile the newly-created plaza might be used for both leisure and commercial events, connecting the main stadium with remainder of the complex.
While promising, especially in the wake of upcoming resurrection of Śląsk Świętochłowice, this vision is preliminary only, however. Competitive dialogue with interested companies would be ran next year and final design would be based on that detailed exchange of information. If final shape is agreed by the city and proposed private partner, reconstruction could start in 2017 and end in 2018.