New stadiums: History and future of Chinese sports
source: StadiumDB.com; author: michał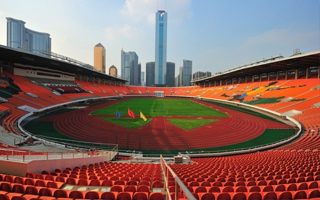 Ever thought China has no interesting football history? Veeery wrong! Check out two great stadiums from Guangzhou and two more that show how the country is developing its infrastructure. Even in Tibet…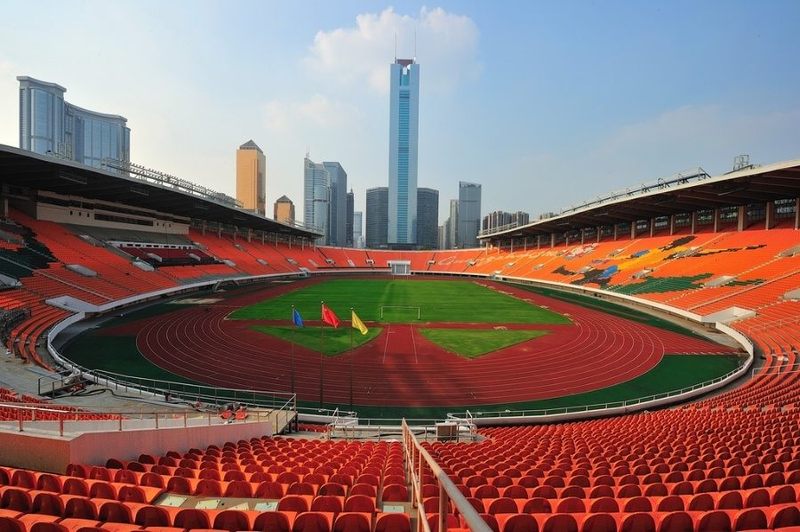 Decision to build a brand new stadium in downtown Guangzhou was made in 1984. Together with other sporting amenities the building able to hold 60,000 people was enclosed in a green square surrounded with high-rise architecture. With its symmetric layout the complex still lies directly along Guangzhou's major axis, running right through the middle of the ground.
The complex was built for 6th National Games of China (1987), but other major events followed soon afterwards. In 1991 it was the place of opening/closing ceremonies and final of the first ever Women's World Cup. In 2001 again home to the National Games, then in 2010 to the continental Asian Games, too. And finally in 2013 it hosted the AFC Champions League final.
Ahead of the biggest events it went through significant renovation works. The concrete superstructure hasn't changed since 1987, but in 2009 all seats and roof cover were replaced, followed by most systems serving the building.
Week-to-week football use is provided by Evergrande, a popular local club often filling the stands to capacity. Although local authorities require that the stadium should only be filled up to 80%.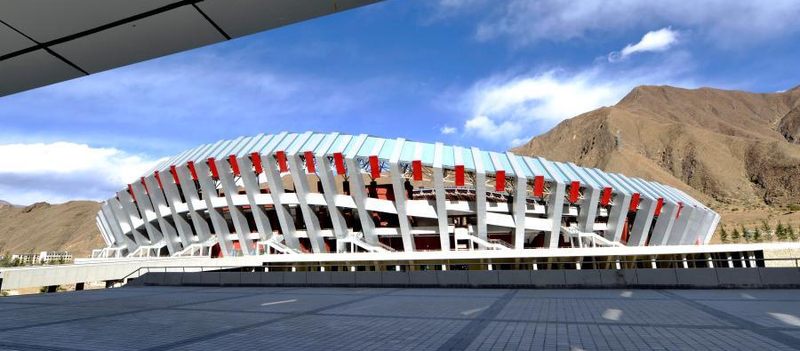 One of the highest stadiums in the world (3,490m above sea level) was built as part of a brand new district in Lhasa, Tibet. The new district with offices and a modern railway station occupies the remote southern bank of Lhasa river, while historically the city lies north.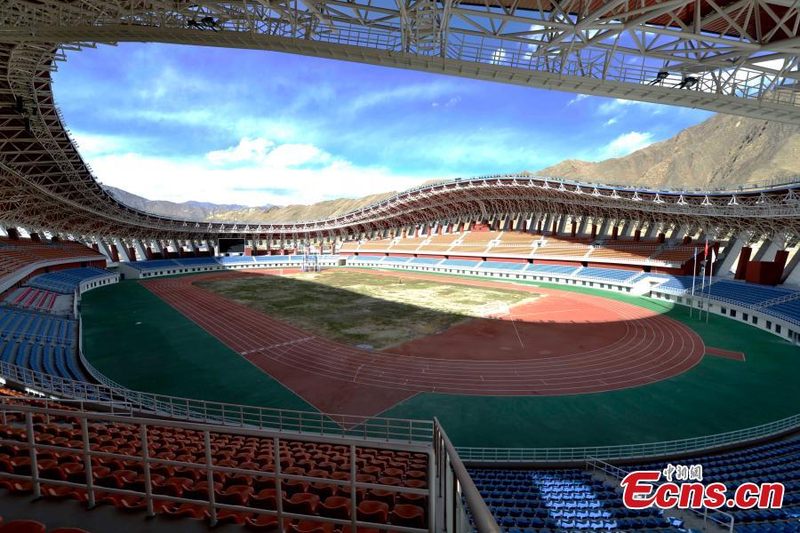 The stadium holds 20,000 people and is part of a larger complex, also containing an indoor arena for 4,000 people and a yak museum. With 69,000sqm of space for use the complex is by far the largest in Tibet. It took 735 million Yuan to deliver it in late October 2014.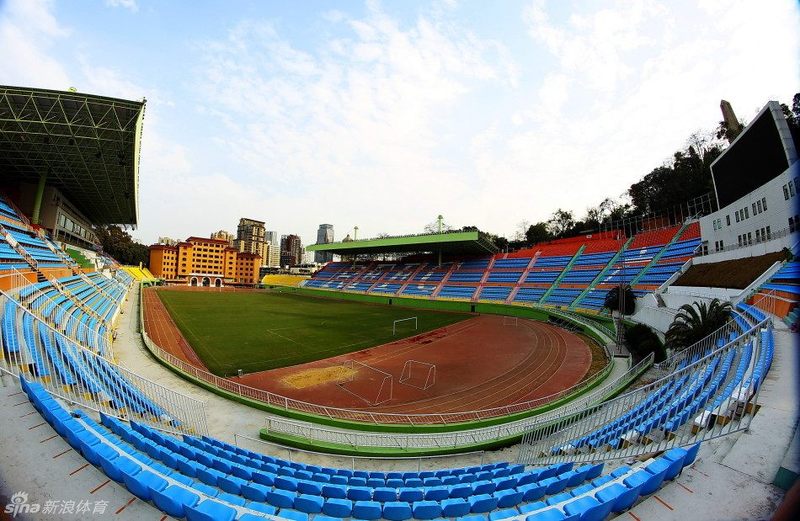 Historically the oldest in the city, geographically the most centrally-located. The stadium built into the Yuexiu Hill has quite a story to tell. It was built in just half a year in 1950, when authorities decided to located a sports stadium in the dense heart of Guangzhou. With very limited resources choice was made to fit stands into a natural horseshoe of the hill.
The outcome of that decision is visible to this day as all stands are extremely steep with a 45 degree slope. The horseshoe's size also proved problematic in the long run, because the stadium today cannot have a full running track (8 lanes), it's only big enough for 4 lanes.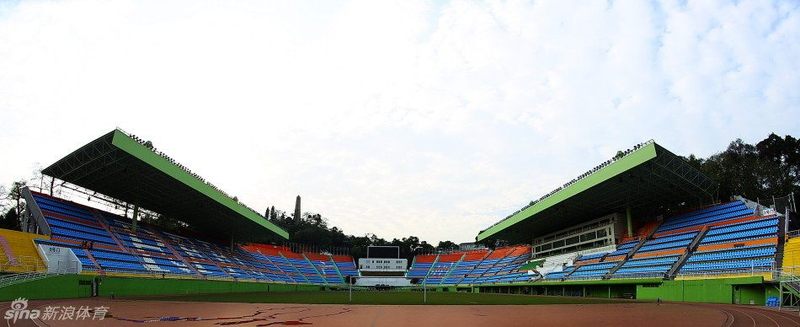 The steep and compact stands have a dark side to them. On November 7 1957 fans trying to enter the stadium's top rows from outside pushed those before them down, causing a human avalanche. 33 people were dead and 57 injured under the pile of bodies. Another tragedy happened in 1972, also with casualties, but we're not certain of what happened or how many lives were lost.
Initially built as the mentioned horseshoe with east end open, the stands were later enclosed with an office building, blocking the spectacular look down onto Guangzhou's downtown. The view outside is also obstructed by newly-built roofs on top of south and north sides.
Despite its athletic layout, the stadium is known for passionate football atmosphere. This is owed to the incline and compact size of stands, which facilitate singing in unison and creating noise.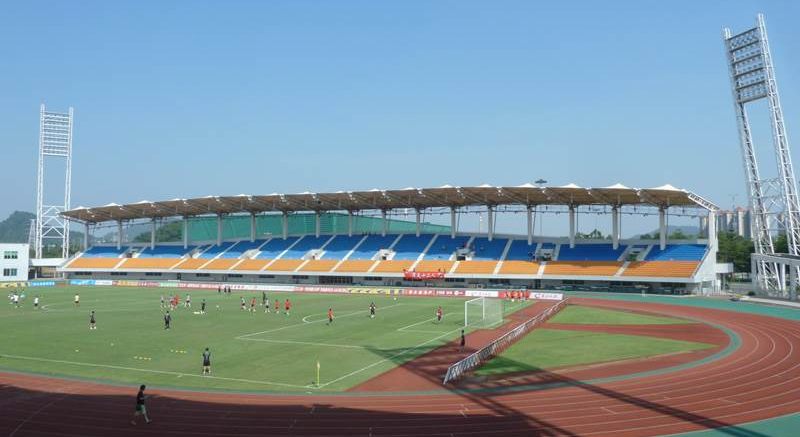 One of Guangzhou's most modern sports complexes was built in 2001, in time for the 9th National Games of China. The stadium holds 12,000 spectators and is surrounded by other sport facilities (indoor hall, training field, tennis, basketball and volleyball courts and a park).
Week-to-week use for professional football is secured by Guangdong FC.