Munich: Bayern repaid Allianz Arena ahead of plan
source: StadiumDB.com / SI.com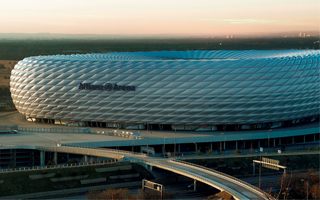 Instead of 2030, Bayern managed to cover all debts associated with Allianz Arena this year, well ahead of time. The stadium cost €346 million.
Bundesliga club FC Bayern Munich has paid off "all debts, loans, and costs" related to the team's Allianz Arena almost 16 years ahead of schedule, executive board chairman Karl-Heinz Rummenigge revealed on Thursday.
According to Rummenigge, all of the expenses related to the construction of the arena in Munich have been "paid off in full." The only remaining cost is a "very small sum due to technical procedures," the chairman said.
Bayern was initially considered only a co-owner and one of two key tenants at the stadium, but took dominant position very early after opening. First in 2006 the club bought the remaining 50% shares from TSV1860 and remains the sole owner. Then, with mentioned debt, the club made the previously public stadium their private home. Though TSV1860 are still playing there, they hope to relocate as soon as possible.
Bayern continues to invest in the stadium and optimize its operations. Much more efficient and modern lighting installation is one of the latest projects, along with capacity increase to over 75,000 (9,000 growth since opening), because the initial size proved well underestimated for Bayern's demand. Each season the stadium sells out in advance well ahead of first game.
Photo: Christian Zeiner (cc: by-sa)