Cyprus: Groundbreaking in Limassol in early 2015?
source: incyprus.philenews.com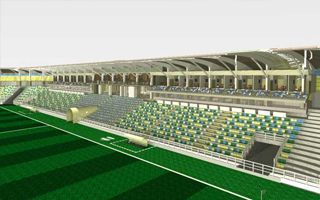 Apollon Limassol chairman assures supporters works on the new stadium shared with AEL and Aris are going smoothly. Construction may start in early 2015, according to PhileNews.com.
Owner and chairman of Apollon Limassol Nicos Kyrzis gave a reassuring statement about preparations to build a new stadium in partnership with local rivals AEL and Aris.
"You cannot build a new stadium in one day", commented the Limassol businessman. "The first thing we did was redraft the designs so the architect from Greece needed to come two or three times to Cyprus. We have already begun looking at ways to finance the project and we are currently talking to the state and various banks. Things are moving along smoothly."

The original design from 2011 had to be altered to include the third club's needs in the scheme, previously delivered for only AEL and Aris. Now all three partners hope to secure financing before the contractor can be found. The new 12,000-seat stadium should cost between €15-17 million.
New football-specific home would replace the outdated Tsirion stadium all Limassol clubs have been forced to play in.