Singapore: Shameful sell-out? The superstadium with not so super turf
source: StraitsTimes.com; author: michał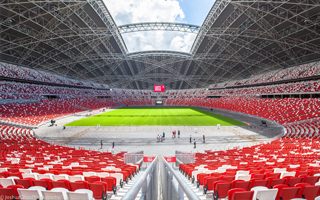 First few months of the Singapore National Stadium weren't supposed to look like that. One of the world's most expensive stadiums is about to experience its first sell-out game, but the field quality has been disappointing since opening.
Singapore Sports Hub isn't as vibrant as it was planned since 2007. But that's nothing to be concerned with at this point. Launching the world's largest public-private project into full use will take time. But despite the S$1.87 billion (€1.16bln / $1.5 bln) budget, it's been subject to public criticism already.
Tomorrow, during the Brazil-Japan friendly, stands will be sold out for the first time. While selling all tickets should be viewed as a good thing, critics remind that the new National Stadium has been in operation for three months and wasn't full even once before.
Even worse, according to The Straits Times it's possible that stars Neymar and Honda won't be fielded tomorrow. The risk is caused by mediocre state of the turf, which already caused Juventus to keep its celebrity player Tevez on the bench earlier this year.
© Singapore Sports Hub
The pitch got under fire already in the summer and isn't looking good also now. Meanwhile the turf enforced with synthetic fibers had cost S$870,000. Further S$1.5 million was spent on artificial lighting to improve growth and strength of the grass. Even more, beforehand the operator tested some 20 kinds of grass over a 15-month period to find the best one and still fell short of the expectations.
Public authorities assure the problem is unique in global scale, because of the place's micro-climate. Singaporean National Stadium is the world's largest dome and though the central part is retractable, sunlight access and ventilation are still limited. That combined with hot and humid climate of Singapore proves to be a challenge.