Poland: Another stadium opened, but cost still unclear
source: StadiumDB.com; author: michał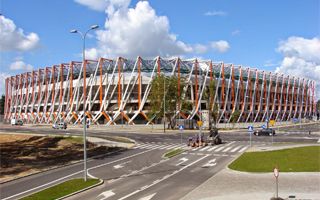 In exactly one week from now the Jagiellonia x Pogoń game will become the very first with all stands opened in Białystok. But despite four years of construction (instead of two) the final cost is still unknown.
Exactly 22,386 people will be able to attend the new Stadion Miejski in Bialystok next Saturday. Of that number roughly 1,600 should be fans from Szczecin, but will that many supporters of Pogon make the 750km trip? It's not clear not only because of the distance, but also because the police wanted to hold the game with only home support. Still, after many efforts it's still possible to see both sets of fans inside.
A special ceremony is planned ahead of the game, though details haven't been disclosed. So far the operating company Stadion Miejski only advised fans to arrive an hour early to enjoy the show. Meanwhile tomorrow everyone eager to see the new stadium in its entirety is invited to come for a community day in and around the building.
It took almost two months to safe-check the stadium after construction had ended in August. Only minor works are still ongoing in one area of the stadium, where design was changed late into the project and was thus released form the summer delivery deadline.

On Thursday Adam Popławski, head of Stadion Miejski, informed the press that the stadium consumed roughly PLN 250 million (€60m / $76m). However, that's only part of the entire spending. PLN 254 million is the amount paid to Spanish company OHL, who delivered 60% of the stadium within a year, having previously taken over after the sacked French contractor Eiffage.

Meanwhile, the city also paid a significant sum to Eiffage, who were supposed to deliver the stadium for PLN 156 million. But Eiffage suffered from huge delays and is currently suing the city for almost PLN 30 million of damages. In return, the city demand over PLN 130 million from Eiffage for the lost time and failing to meet the contractual requirements. So the final price of the new municipal stadium will only be known once the mutual lawsuit is resolved in court.
Jagiellonia, though not being the investor here, also suffered significantly from the conflict and contractor change. The team had played at one of the smallest stadiums in the Ekstraklasa (with around 6,000 capacity) for four years instead of two. So playing in front of a packed stadium should be a relief. Of course if the 6th team in Poland manages to draw that many fans, which may prove a whole new challenge…