Moscow: Luzhniki ahead of schedule
source: AP; author: michał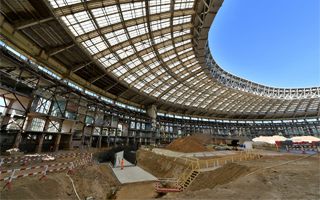 FIFA is very satisfied, because Russia's national stadium redevelopment is ahead of schedule. In spring of 2017 the RUB 19 billion giant is to be reopened with completely new infrastructure.
Reconstruction of Luzhniki national stadium in Moscow is going faster than anticipated, as witnessed during last week's working visit of FIFA. Main concrete slab that will give support to stands and the roof is well under way. The existing outer shell is also being reinforced to meet future demands.
The concrete and steel dome will be required to support more equipment than it had before. While the roof sheet will be changed to lighter one (translucent), there's a massive panoramic screen planned throughout the inner perimeter of the roof. The cover will also bare additional event lighting.
Currently there are 800 people working around the clock. That may not be easy in upcoming months as Moscow is already under snow, which will slow down concrete works.
The project worth RUB 19 billion (€360m / $460m) foresees respecting the historical facades and creation of brand new double-tiered stands for 81,000 people within the blueprint and under existing roof. Works are required to end in spring 2017, because Luzhniki is expected to host not only the 2018 World Cup, but also the 2017 Confederations Cup.
During the working visit FIFA delegates also visited four other stadiums – Otkritie Arena, Kazan Arena, Stadion Fisht and Zenit Arena. There were no major concerns raised, quite the opposite – projects were praised for their progress.