Minneapolis: 400 tons went up at Vikings Stadium
source: StadiumDB.com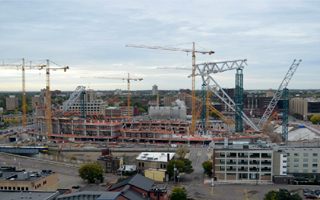 Big changes took place recently at the new stadium site in Minneapolis. Two immense trusses were lifted and now stand out in the city's skyline in an unusual position.
Starting Monday, the operation of mounting two giant trusses began in downtown Minneapolis. First, a diagonal beam weighing nearly 230 tons was set up. On Tuesday another one was placed over it, this one slightly lighter – 160 tons.
Together nearly 400 tons (855,000 pounds) of steel was placed in just two days, which is the largest operation in this build to date. There are currently four truss beams in place of what will make up the primary dome structure. Already now they reach the eventual height of the new stadium – over 82 meters.
The new stadium's cost is now expected to exceed the planned $975 million by roughly 50 million, reaching 1.024 billion. As announced this week, the Vikings Stadium will be connected to Skyway, a downtown system of air-conditioned pedestrian bridges. It essentially means visitors will be able to walk across the entire downtown area without stepping outside.