Malaysia: Repairs in infamous Terengganu to commence
source: TheStar.com.my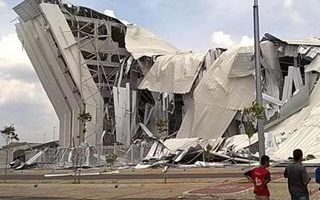 In 2009 most of the roof collapsed. In 2013 the same happened to what was left. Now authorities hope to reopen the stadium after 5 years of despair. With no roof at all.
14 contractors will receive deals worth a total of MYR 27 million (€6.5m / $8m) to deliver new seating, elevators, basic amenities, electrical and mechanical systems. The works aren't an upgrade, but repair of what was demolished during two disasters that hit the stadium.
Opened in 2008, the 50,000-capacity building only managed to host the national games before losing majority of its roof. In 2009 vast steel structure over the main grandstand collapsed onto the stands, causing severe damage in equipment, but not impairing the concrete stand structure.
Since then it's been closed and in 2012 decision was made to dismantle the opposite side's roof too, in fear of similar catastrophe. Unfortunately, in early 2013 that portion of the roof also gave way, falling onto workers. Thankfully there were no casualties.
Now the sultanate hopes to reopen the Sultan Mizan Zainal Abidin Stadium in January 2015. However, at this moment there is no plan of installing either a new roof or even floodlights over the stands.