London: Confirmed, Olympic Stadium to cost £36m extra
source: theguardian.com; author: michał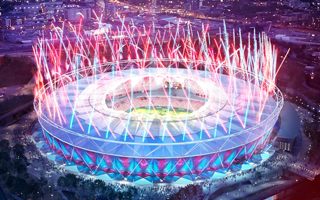 Not as expensive as predicted in recently leaked information, but the London Olympic Staidum's conversion will cost the taxpayers further £36 million, totaling at 221% of the 2007 estimations.
The London Legacy Development Corporation had been denying for a couple weeks, claiming they've only been meeting contractor Balfour Beatty to discuss current works on the Olympic Stadium.
Meanwhile leaks from early September gave a different idea, suggesting both sides were negotiating additional costs of between £15 and £50 million. Today the LLDC confirmed Balfour Beatty will indeed be paid extra for the Olympic Stadium's redevelopment. The initial contract of £154 million will be increased by £35.9m.
The increase is believed to be caused by the project's complexity. Still, the contract shouldn't last longer than agreed earlier, despite being slightly off schedule at this point.
The recent increase puts total spending on the Olympic Stadium at £619, which means 221% of the 2004-2007 estimations (£280m).