Indonesia: Fan killed after football game in Solo
source: AFP / StadiumDB.com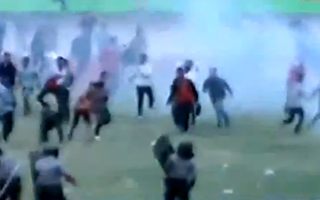 It may be "only the second league", but it still draws crowds and experiences the good and bad sides of fanaticism. Both were seen on Wednesday afternoon in Solo, where a fan was left dead.
Wednesday's second league clash between Persis Solo and Martapura FC enjoyed a considerable crowd of over 10,000 people despite the game being only in Indonesia's second league. Persis is one of the more recognized teams in Java and is known for vocal support.
But that support may also turn violent as witnessed on Wednesday. The game had crucial meaning for fans as both sides had chances for promotion to the top league. A win for Persis would give them second place in the play-off group, while anything less than that – the last spot.
This is why tension began to grow nearing the end of the match, when the score was 1:1. Around 86th minute the referee ended the tie as one of his linesmen was attacked with missiles. Away side and referees fled to the dressing rooms, while police forces faced a large pitch invasion, which soon evolved into violence.
Vast majority of the crowd was well-behaved and started leaving the stadium, which is where the violence escalated. 6 fans and 8 policemen were injured, while several cars and buses were destroyed and a police motorcycle burnt.
The most tragic outcome of the violence wasn't known until order was restored with heavy-handed policing. One of the spectators was found lying dead with significant chest wounds. Specific circumstances of his decease remain unknown as the case is being investigated.