Rotterdam: Who will cover extra cost of Feyenoord's project?
source: nltimes.nl / telegraaf.nl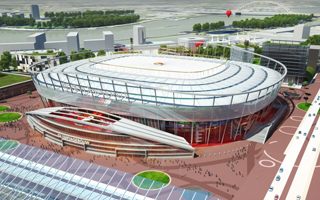 Politicians in Rotterdam have told Feyenoord that it may have to come up with the millions needed for the extra land that construction company BAM needs to rebuild De Kuip stadium according to their measurements, De Telegraaf reports.
The plans call for an extension of the stadium on the northern side, which would require the Coen Moulijnweg road to be diverted. The costs of this have been estimated at over €30 million.
"If it doesn't fit, then Feyenoord will have to pay the extra costs", alderman for City Planning, Ronald Schneider says. Feyenoord itself would only approve the BAM blueprint if the club brings in millions every year, De Telegraaf writes.
According to the paper, politicians in Rotterdam are already divided on whether or not to participate in the project by means of shares of €35 million.
The build will not solve the traffic issue, as expanding the capacity to 70,000 is not enough. To alleviate the parking problem, another €100 million would have to be invested into the construction of several parking garages.