Poland: Unique month for Narodowy, look at these events!
source: StadiumDB.com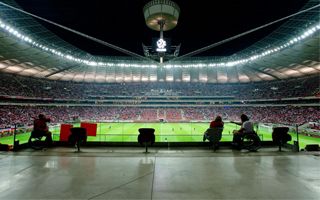 In 5 weeks the Polish national stadium saw events that were never combined in one building before. From football to athletics, then volleyball and even windsurfing – one after another.
Stadion Narodowy suffered from very poor press in its early months and needs to rebuild its image as Poland's most versatile stadium. Under new management no proposed event was ranked impossible, even if other operators would shake their heads in disbelief. And the past month is a great proof of what's possible to take place at Narodowy:
On August 16 Real Madrid played Fiorentina (the Italian side won 2:1) in an exhibition game, to the amusement of a nearly-sold-out stadium. Football games aren't anything special at football stadiums, but in this case the natural turf was laid solely for this one fixture. Stadion Narodowy doesn't have a permanent pitch, because it's not economically viable.

Photo: Robert Danieluk
It also has no running track, but this changed on August 23, when the 5th Kamila Skolimowska Memorial took place, allowing Usain Bolt to set an unofficial record (100m) under a closed roof. The event enjoyed moderate interest and only one tier of the stands was fully opened. Still, this stadium was expected not to be able to hold any track and field event during planning phases.
Just a week later, on August 30, the stadium turned into a volleyball arena. For one evening it became the largest ever hall to hold a World Championship game, seeing a record crowd of roughly 65,000 people inside. Some 12,000 of them were seated in temporary sections erected around the field.
One weekend later Narodowy became the first stadium ever to hold the Indoor Windsurfing World Cup. A massive pool was set up along the main stand, while wind of up to 70km/h was created by 34 large fans.
And finally this weekend artificial desert dunes will be the scene of VERVA Street Racing event, this year themed to imitate the famous Dakar race. The Poland vs. Rest of the World clash in various racing categories is reported to enjoy significant ticket interest.
After these 5 large events in 5 weeks Stadion Narodowy will again revert to its football mode, this time for two games of the Euro 2016 qualifiers. In October Poland will face Scotland and the archrival they never won with, Germany.