Poland: Controversial stadia safety legislation to change
source: StadiumDB.com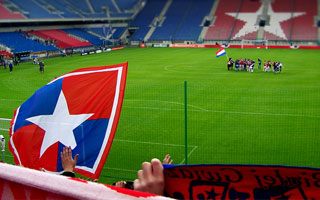 There's good and bad news coming for football fans in Poland in 2015/16. On the one hand safe standing areas will return to stadiums. On the other, new banning orders will make going to games a real mine field for some.
Polish members of parliament are currently working on amendments to the Mass Event Safety Act introduced ahead of Euro 2012. While the changes are long overdue, their final shape is still unclear.
The parliamentary Commission for Physical Culture, Sports and Tourism is very reluctant to reveal any details not only to the public, but also to the bodies consulting new legislation – PZPN (Polish FA), Ekstraklasa SA (Polish premier league) or legal experts. In recent days it turned out that nearly all comments or doubts raised by consultants were discarded with no reason given. Not long before its first reading in parliament, the legislation has some disturbing points.
Changes for the better
English fans may sigh enviously, because the new Act will once again allow standing terraces to be introduced. However, further rules will have to be developed in separate documents to create strict guidelines of how this may be introduced, so supporters in Poland shouldn't get too excited. Not just yet.
One more alteration that should greatly improve the matchday experience will be waiving fan ID cards. They will no longer be obligatory for every fan and no face photo will be required, only one's personal ID. In practice both of these conditions aren't respected in some clubs, but for thousands of fans getting a ticket has become a real burden, which in turn resulted in melting attendances. Instead of scaring away thugs, this made life harder for regular fans and even more for people wanting to visit stadiums incidentally.
Also, fewer clubs will be required to hold databases of their fans, because in lower leagues the teams were unable to cope with strict rules financially and technologically. To date the central database of football fans, which was expected to work in 2012, isn't fully operational and systems working in different clubs across Poland aren't compatible.
The controversial part
And that's the least to say about proposal of extending banning orders, which already are considered unconstitutional in some cases. In Poland regular banning orders are issued by courts (2-6 years, almost always combined with fines of €400 upwards), while clubs can give away their own bans and do it quite freely.
A recent case of Wisła Kraków this spring saw the club issue over 4,000 bans for everyone present in the north stand during a game in which flares were lit and landed on the pitch. There were only a few culprits and no investigation by the club as to who they were – everyone had to pay. This sparked a half-year long boycott of games, which brought attendances to an all-time low of under 5,000.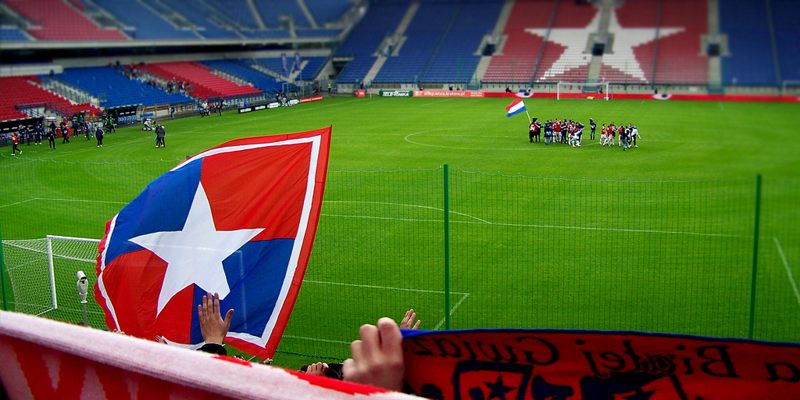 Empty north stand visible in the background was all subject to a massive banning order after several flares were lit. Photo: StadiumDB.com
While the boycott in Krakow was more complicated and had underlying issues, Polish Ombudsman Prof. Irena Lipowicz brought the case of some banning orders to the Constitutional Court in recent months, arguing that private clubs shouldn't be allowed to ban fans based only on their own stadium rules of conduct or in fact on their will. The Court agreed and within a year one point of the legislation will be waived. Still, the issues of club banning order are much wider, for example ban issued by one club may effectively mean you may not enter any stadium across the league. Some lawyers claim these bans should be waived altogether, leaving courts to decide on who should be banned from stadiums.
And in this atmosphere of legal scrutiny, members of the parliamentary commission are suggesting expansion of private and court banning orders. Latest version of the proposed legislation includes:
allowing courts to ban people from games for offenses not connected with football. If the bill passes in its current shape, person involved in a bar fight or swimming in a public fountain may lose their right to attend stadiums.
allowing further entities to impose their banning orders. After public courts and private football clubs also PZPN and Ekstraklasa would be allowed to issue bans.
allowing clubs to deny entry to anyone they find likely to cause trouble. In obvious cases this may sound like a sensible tool to introduce, but that point is so general that may be used as alibi to not allow people who clubs don't want to see (for example, if they're in conflict with some fans who still want to attend games).
penalizing any negative behavior towards stadium stewards. Currently only breaking the Mass Event Safety Act or stadium rules of conduct is subject to penalties. Along the parliamentary project any opposition towards stewards may be subject to trial, even if one breaks no rules (for example - if they demand us to take a different seat than that on the ticket, which is prohibited). Stewards will also gain protection from verbal and physical abuse.
increasing the range of legislation beyond stadiums, to organized travelling groups of fans. This point is written so vaguely that it may even guarantee a court banning order for bus drivers who have a fire extinguisher in their busses (which is obligatory by other rules, but will be prohibited at the same time). They don't have to intend to visit any stadium at all! Legal experts warn this may lead to absurd sentences and use of collective responsibility. For example – if a banned flare is found in a bus, these rules might allow imposing bans on all passengers. But, more worrying is the possibility of fans escaping the rules by organising cavalcades of 200-300 private cars to avoid being recognised in court as a group.
Legislation process – you're doing it wrong
The Commission working on amended legislation doesn't seem to mind the criticism it's receiving from the Constitutional Court, the Ombudsman and legal experts. It seems the ends justify means and public opinion demands firm action against hooligans.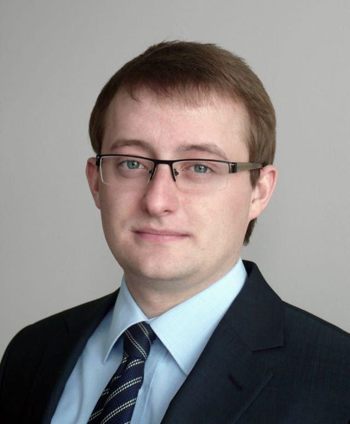 We interviewed Mateusz Dróżdż, considered one of the rising stars of Polish legal community. He took part in nearly 500 cases of football supporters and is now consulting the amendments that are soon to be introduced to the entire parliament.
"My theoretical and practical knowledge suggests there are roughly 120 doubts, lapses. For example, if 99% of the doctrine indicates the current banning rules are unconstitutional, they surely shouldn't be expanded.
"But most importantly sometimes I get the impression that the amendment process has very little to do with what it should look like ideally. During the works of Permanent Expert Group I filed three comments totaling at 70 pages and there's not a single word included in the project. I realize I still have a lot to learn as a lawyer, but something is clearly wrong here" Dróżdż says.
It seems even the entities that should be closely tied to legal changes also have very little to say. Back in August Dr Seweryn Dmowski, representing Ekstraklasa SA, assured the public in an interview that the above-mentioned changes to banning regulations were mostly dropped. Yet just one week later the very same rules are again included in the Commission's proceedings and latest legislation draft.