New stadiums: Büyükşehir Stadyumu and Başakşehir Stadyumu
source: StadiumDB.com; author: michał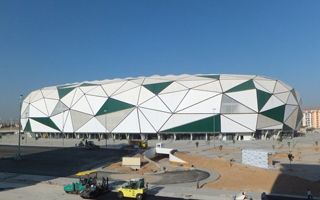 Both were first announced in 2006, both required budgets of under TRY 200 million. But one was built for a great and popular club, while the other for a team that has barely any followers.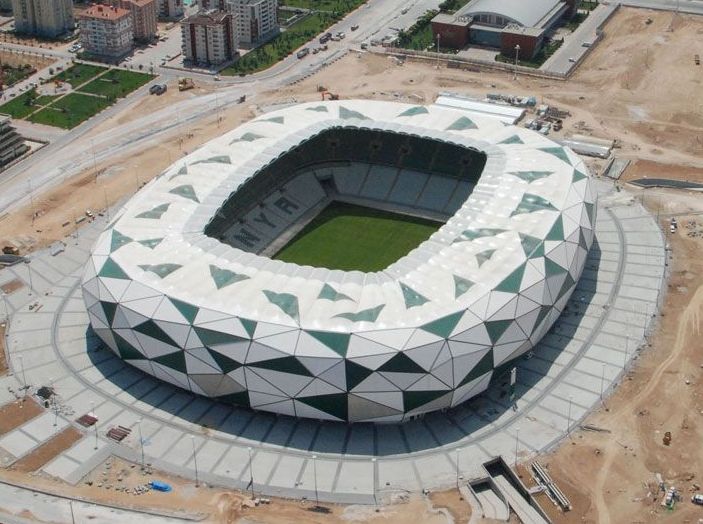 One of the most popular clubs outsider Istanbul, Konyaspor, spent nearly a decade waiting for their desired new stadium. Initial plans were drawn in 2006, envisaging a new 35,000-seat stadium and a hotel/retail complex.
Eventually a different scheme was implemented, launched as part of a nationwide sports infrastructure program. Along principle rules stadiums are moved outside city centres (old ones sold/demolished). In Konya this meant moving to the north-western edge, to a plot which used to be a public park.
Architecturally the stadium stands out compared to most modern arenas with its strong, angular outer form. With contrasting white-green colours it resembles a flat football. Though changed slightly during implementation, the vision by Istanbul-based design team retained its distinctive looks.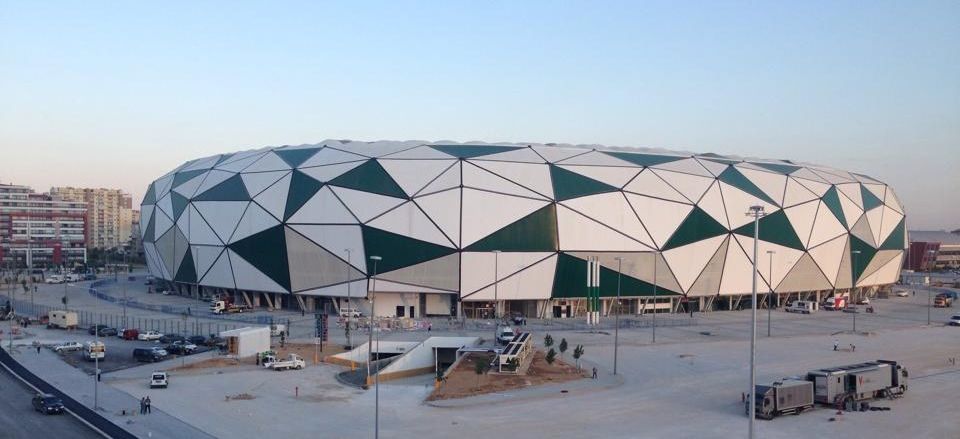 Most of the cladding consists of triangular composite panels, some translucent to provide natural light for facilities inside. The roof is made of more traditional membrane, but still utilizes triangular forms to fit in the entire design. At night the stadium also differs from many others. Instead of illuminating the panels, architects chose to highlight edges and vertices of the triangles, forming an interesting impression.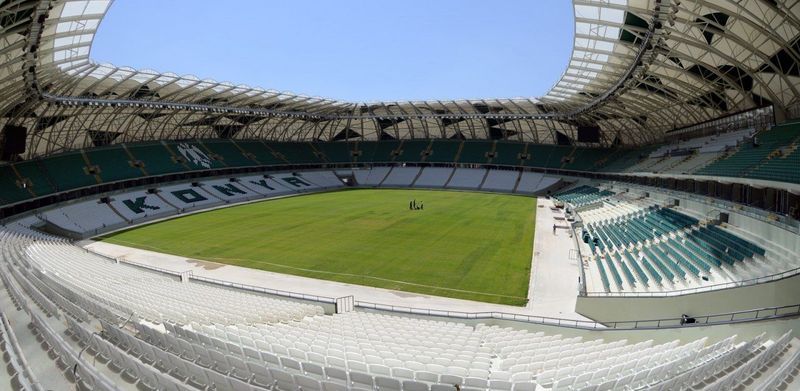 Construction was launched in October 2012 and went on to end in under 2 years despite some harsh weather conditions. Opening took place in September 2014, as the Super Lig kicked off. Sadly, the first game saw stands only half-full. This came as a result of nationwide protests against controversial fan ID cards.
In the end the stadium grew significantly from initial plans, exceeding 42,000 seats. This number includes 55 skyboxes spreading over west and east sides (920 seats). There are also three significant restaurants and a complex hospitality zone in the west stand.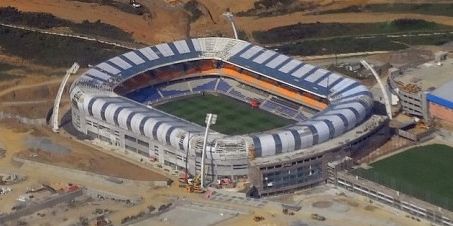 History of this stadium dates back to 2006, when first plans of its construction were disclosed. From the very start it was planned as future home for IBB, a municipal club with much investment, but very few fans.
Its initial capacity was hoped to reach 22,500, but was later scaled down to a number still highly exceeding actual demand – 14,500. Eventual seating configuration brought the capacity up again, to 17,319.
Construction in Istanbul's northern district of Başakşehir (just a few km from the national stadium) was due for groundbreaking in October 2006. However, seeing a number of changes in the entire scheme actual construction began in 2013 (after preparatory work in 2012).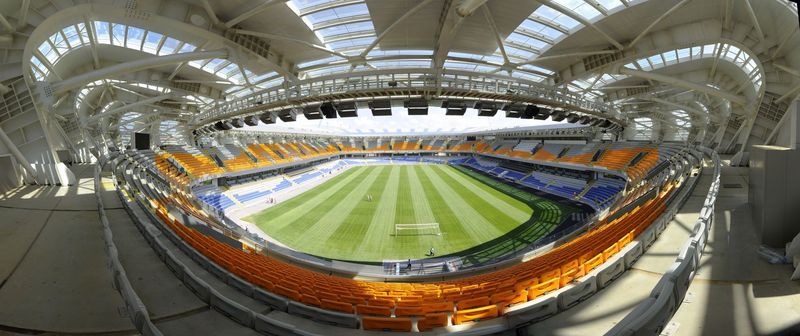 Within 16 months the stadium and its surrounding complex were ready, giving the host club a ground of international standard and three training pitches, along with a campus. In turn the investment proved roughly 60% more expensive than envisaged in 2006, costing TRY 178 million.
The aesthetic and functional side was designed by Arima Mimarlik, who produced a few quirky solutions. Despite being football-only, the stadium has curved end stands. Also, though the roof is placed high enough, the stadiums floodlights were placed at 4 separate masts.
In 2014, just before official opening, IBB transformed into IBFK, losing a portion of their few supporters. Despite this fact there were crowds at the official opening, attended by Prime Minister Erdogan, seeing the hosts spare no expense to make it a true feast. The stadium was then named after Fatih Terim, legendary player and manager of the Turkish national team.