Poland: Warsaw's athletic misery
source: StadiumDB.com; author: michał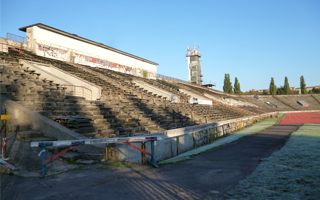 Usain Bolt will run in Warsaw today, but the event had to be held at football-specific Stadion Narodowy. Polish capital has no decent venue with a running track. The most famous one is almost in ruins.
Especially for Usain Bolt Stadion Narodowy will have a running track installed today. Not a full one of course, only enough to enable the record-breaking sprinter running a 100-meter distance. He won't have world-class opponents, but his name is the key here: organisers of the 5th Kamila Skolimowska Memorial needed to draw crowds as they decided to host their event at Poland's largest stadium.
It's ironic, because getting Bolt to run in Warsaw has cost at least a couple million zloty (details not disclosed), which would be enough to moderately renovate Warsaw's largest and centrally located Stadion Skry.
Photo: Sebastian Spychała
In 2011 Skra president Krzysztof Kaliszewski suggested the club would need roughly $1 million to install 15,000 steats onto the repainted stands, which would be more than enough for domestic needs. Still, to date only 10% of that budget were collected to replace the old running track.
Photo: Sebastian Spychała
And not a single coin came from the public authorities, who are in constant odds with Skra. The Warsaw municipality invested in football stadiums for both Legia and Polonia (though the latter received a very small fraction of what Legia was offered), but Skra stadium looks nearly the way it did upon opening in 1953. Except that now it's old, dilapidating and quite frankly – more suitable for demolition than renovation. Skra, once a 10-section club, now has only athletics and rugby.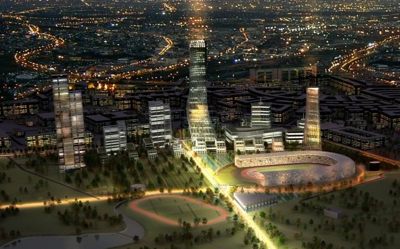 A few years ago Global Partners Group suggested they'd finance the stadium's complete revamp to a world class 15,000-seater (rendering left), but in return the investors hoped for a strip of residential/office buildings to be allowed within the large leisure complex. That chance is now gone as their bid failed.
No wonder that Anita Włodarczyk, Polish gold medalist from last weekend's European Championships in Zurich, started conversation about the stadium when she met prime minister Donald Tusk on Monday. "We'd like to thank for the support so far. We also hope that the Skra stadium will eventually be modernized, which would help not only athletics, but also Polish sport as a whole".