Poland: Białystok stadium (almost) delivered in time
source: StadiumDB.com; author: michał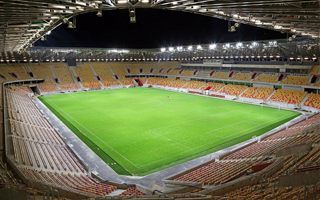 Instead of two years it eventually took four to build it, but now the 22,400-capacity stadium is about to become the sixth largest in Polish top league. But first it needs to get all approvals from authorities.
Yesterday the municipal subsidiary Stadion Białystok Ltd. and Spanish contractor OHL confirmed that the new municipal stadium in Białystok is ready to begin handover procedures. Delivery by August 19 was a contractual obligation by OHL, who were given a year to build 60% of the stadium last summer.
The announcement has one minor exclusion. Stadion Miejski was handed over without secondary office/sporting facilities under parts of the stands. The exclusion was made as investors decided to reorganize the space and agreed on a later deadline. Both parties stress this will have no effect on the opening of all stands to spectators.
Before the structure can be opened for the public in its entirety (first two stands are operational since last summer), handover procedures with the investor, police, fire department, health and construction supervision authorities need to be finished. Stadion Miejski Ltd. expect all approvals to be granted within two months.
This makes it uncertain, whether Jagiellonia Białystok can play the hit game against Lech (September 13) in front of the entire 22,400-capacity stadium instead of current 7,000. The stadium's first ever concert is planned for Sept 14, now also not sure to go on as planned.
Once the stadium is ready and approved, it will become the 8th largest in Poland and 6th across the Ekstraklasa, the top tier.
Getting to this point took twice the time it was intended to take, however. Construction of the stadium began in June 2010, expected to end in 2012. But the Polish-French consortium contracted for the job experienced severe delays and was eventually sacked.
OHL took over in 2012 and finished all remaining works. Along with time, the budget was also stretched. Initially planned to cost PLN 156 million, the stadium ends up with a 254 million price tag ($80m / €60m).