Oslo: New stadium for Vålerenga partly approved
source: Osloby.no; author: michał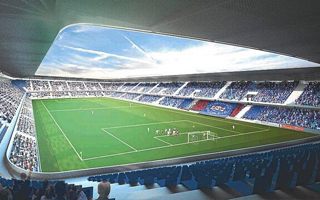 Oslo city council unanimously agreed that the proposed stadium in east Oslo should be built. But decision on whether to transfer land to the club is yet to be reached.
The biggest club in Norway's capital has moved a step closer to building the long-awaited new stadium. The city council yesterday evening approved the scheme unanimously. Along with a school, commercial and residential buildings, the stadium is planned for Valle Hovin, some 3km east of the centre.
That's great news for Vålerenga, who have been pursuing the dream of a private stadium for 6 years now. Tenancy at the national Ullevål is far from being a perfect solution. Last season the club was only able to fill a third of all seats, this year enjoying a slightly higher attendance of under 11,000 per game.
One thing that wasn't settled yesterday is the transfer of public land to the club and its commercial partners. All plots are to be given for as little as 1 krone, but decision was postponed due to questions from council members. As the project includes significant civic functions (mainly the school), the city needs clarification on future use of the facilities. The club is expected to lease the school to the public, but details aren't known.
Decision on the latter element is expected during the next session, in September. Planning officers believe satisfying the doubts will be a formality and Vålerenga will be allowed to go forward. The entire project is estimated to cost NRK 650 million, of which the school and stadium will consume 400 million.