Mönchengladbach: Borussia-Park – how it changed things round
source: RuhrNachrichten.de; author: michał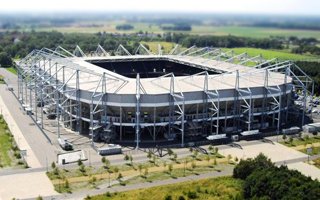 It didn't get the 2006 World Cup games, it never had a naming rights deal. Still, "the other Borussia" grew in their new stadium and has serious plans for its future, as Borussia-Park grows 10 years old.
It seems the lean years are behind them. Borussia Mönchengladbach, who were relegated from the Bundesliga twice since 1999, are again playing in Europe now. At the same time the club enjoys record popularity as it reached 60,000 shareholders and one of Europe's top matchday attendances.
8th crowd in Europe is a true achievement and for Borussia it's a direct outcome of last season's 6th place in the Bundesliga. But even in the more difficult campaigns, when they had to defend their position in playoffs, Borussia-Park was filled enough to make 'top 20' on the continent in terms of attendance.
The stadium has always been in the shade of larger or more famous neighbours in the Ruhr Region. World Cup games of 2006 were snapped by nearby Cologne, Dortmund and Gelsenkirchen, while Borussia-Park remains Germany's largest stadium never to have a naming rights contract. In return, the official name is now well rooted into the fanbase and club identity.
Speaking to Ruhr Nachrichten, CEO of Borussia Stephan Schippers assures that no deal doesn't equal no interest in naming rights. "Some areas can be marketed, while others need to be treated more sensitively. A partner for the stadium must be a 100% march. We don't want and must not sell the name at all cost […] Borussia-Park is a unique name and is fixed in people's minds", says Schippers. Although he agreed the traditional name may make future transactions more complicated, if a proper partner is found.
As the CEO stresses, Borussia-Park was fan-oriented in more aspects than just the name. Before the stadium was built, in 1999, a working group with fan representatives was created to address desires and fears the community may have. One very strongly visible outcome is the immense terracing capacity of nearly 19,000 people.
And despite the lack of naming rights partner over the years, Borussia-Park helped the club grow several times over its first decade of operation. "The Bökelberg was no longer competitive. We made a turnover of €18 at the old stadium, today that figure is €110 million. Impossible to achieve with old infrastructure", Schippers assures.
But as Borussia-Park turned 10 on August 14, plans on improving the stadium are ready. "We're planning a new building of 15,000 sqm. It will house the club museum, fan shop, rehabilitation centre and a hotel. We agreed with the Lindner Group that 40% of the hotel will be in Borussia's hands", the CEO outlines, though detailed evaluation of the plans still awaits.