Macedonia: Frightening accident and great help by rival fans
source: TIP.com.mk / Sport365.mk; author: michał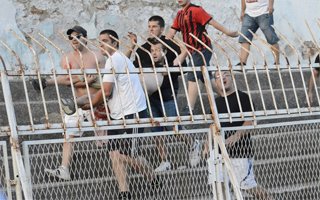 As visiting supporters were being pushed out of the stadium, a grenade exploded. Antagonistic home fans took care of those injured when medical services proved insufficient.
Games between Pelister Bitola and Vardar Skopje are known for their electric atmosphere. No wonder the home stand at Pod Tumbe Kafe was filled to (perhaps beyond) capacity, while some 400 visitors came from the capital.
As is regular practice by the Macedonian police, visiting fans arrived near the end of the first half. When the game was ending, evacuation of the away end began, also to satisfy the police's timeline. A bottleneck exit was created as the few hundred people were being pushed out.
Then, as Sport365.mk informs, a police grenade exploded within the herded fans. There are reports of at least several injured fans, but one of those present during the incident claims it's dozens more than several. Most injuries proved light, but a few fans may take long to recover.
Videos of the incident show one Vardar fan with his hand hanging loose, nearly ripped out.As it later turned out, he caught the granade and tried to throw it away, when the missile exploded in his hand.
Shockingly, immediately after the explosion, the police became more brutal and started hitting fans over their heads with batons, only stopping after the injuries became apparent.
There was only one ambulance on site, which left most of those injured without medical help. This is when local Ckembari supporters stepped in and offered their cars to transport injured Vardar fans. Then the host fans made sure their rivals have food and water while in hospital.